How a chance meeting became a valuable resource for those with a passion for period furniture.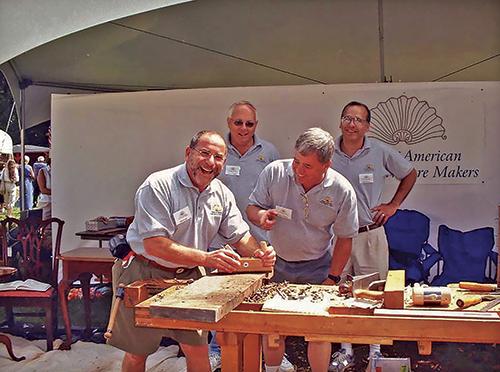 Society of American Period Furniture Makers co-founders Steve Lash and Mickey Callahan demonstrate traditional techniques at an event at Winterthur in September 2003Although there is no official connection between Colonial Williamsburg's "Working Wood in the 18th Century" conference and the Society of American Period Furniture Makers there is a strong bond. In fact, without the conference SAPFM would likely never have been founded.
Here are some remarks from SAPFM co-founder Steve Lash from the first annual meeting in January, 2000:
"Mickey Callahan and I met during last year's "Working Wood in the 18th Century" conference here at Colonial Williamsburg and were very impressed with what we saw. It was the first time that we had ever been a part of so large a gathering of spirited woodworkers and others where all the topics of discussion dealt with the historical production and current reproduction of 18th-century American furniture.
"We spoke at length with a number of you and all expressed amazement that, although there are many different organized groups of interest to woodworkers and furniture makers, the reproduction cabinetmaker still had no special place of his own. There was no venue for communication, and no forum to promote understanding, education, and appreciation of our craft. We had no way to identify and locate resources and individuals with special expertise regarding period furniture; and we had no way to identify and recognize exceptional individuals and their work.
"We asked Jay Gaynor, here at Williamsburg, if he would help us determine if interest existed for such an organization. He enthusiastically endorsed our idea and helped us contact the participants of last year's conference. John Lavine from Woodwork magazine also published articles last summer about our efforts in two successive issues and word of mouth promotion for our grass roots organization started to grow. Tod Riggio from Woodshop News and Tim Schreiner and Matt Teague from Fine Woodworking featured us in their magazines. The results of our poll indicated that a society such as this was long overdue. These results together with the planning and organizing efforts of the executive council all have led to the Society of American Period Furniture Makers becoming a reality."
Off to a Good Start
At the first meeting, Mickey Callahan detailed what the society had accomplished in a brief period of time:
"As Steve has already mentioned, this is a very historic occasion. It is historic because we have managed to bring together a broad spectrum of individuals from far and wide, from varied walks of life, individuals who are knitted together by one common thread, a thread that is woven from a simple but very strong passion, the making and preserving of period style furniture. To our knowledge, a gathering of this magnitude and purpose has never been done before."
At the time of the first annual meeting the sapfm.org website was up and running, and Callahan explained: "It will be a source for information as it relates to educational, historical, and materials resources as well as providing deeper insights into museums and other organizations and institutions. It will also help facilitate and provide a sounding board and clearing house for the exchange of information, ideas and yes…even opinions on all aspects of period furniture making."
Plans were already in place for hands-on workshops, member exhibitions, a quarterly newsletter and an annual journal. The friendship and fellowship established by Callahan and Lash proved to be have a strong appeal to many furniture makers. The discovery of kindred spirits is refreshing and enlightening and SAPFM quickly became a place to share the enthusiasm for reproducing period furniture.
Twenty years ago the Internet was just beginning as a way to connect like-minded people scattered across the country and solid information took effort to obtain. Isolated furniture makers found a wealth of knowledge in the experience of other members and a willingness to share knowledge.
Word spread during 1999 and by September the first newsletter (two pages) was mailed announcing the first annual meeting to be held January 24, 2000. At the time about 100 people had responded and about 200 were in attendance at the dinner held in Colonial Williamsburg. Lash served as president for eight years and also spoke of the beginnings of SAPFM at the 2018 Cartouche banquet:
"And while putting together our steering committee, out of the blue Gene Landon called me at home and said he heard what we were doing and could he help. Now, like many of you, I had been a woodworker for my entire life, working alone in my basement shop. When Gene called, I knew we were on to something. We held our first executive Council meeting at Gene's home."
Co-founder Mickey Callahan, who served as president after Lash, wrote about this in American Period Furniture celebrating SAPFM's 10th anniversary:
"With the group formed, the next step was to have an initial strategic planning meeting to decide on our mission, goals, and member benefits. We also needed to create a set of bylaws and establish how we would manage and govern the organization. We even had to come up with a name, which stands today. So Gene Landon and his wonderful wife, Jane, invited us to their home in Montoursville, PA, for a weekend in early December 1999. Despite being distracted by Gene's incredible workshop and museum-like home filled with his creations, we managed to prepare the groundwork for SAPFM".
Superstars
From Steve Lash's 2018 talk at the banquet "… while planning the inaugural meeting of SAPFM during the Working Wood Conference, Mickey and I decided that after the evening's speaker, as an extra attraction, the society would present a lifetime achievement award to a furniture maker. We came up with the name simultaneously. Harold Ionson! Later, the magazine Antiques and Fine Art called Harold "the perfectionist's perfectionist; the last of the Colonial Revival craftsmen who trained in the thirties. I have a photograph of Harold in my shop, and every time I want to take that shortcut, or not redo that screw-up, I look over at him and think WWHD. What would Harold do?"
Callahan continues the story of the beginning of the award in his 2009 journal article: "... we agreed that we needed to have our own "Heisman Trophy" for period furniture makers. While contemplating ways to accomplish this, we all seemed to notice at once the cartouche sitting atop one of Gene's tall clocks standing nearby. That cartouche, representing the pinnacle of a grand Philadelphia-style tall clock, was to become our Heisman Trophy. We had Gene's carving cast into a mold that is now used to cast the bronze cartouche used in our Cartouche Award every year."
The Cartouche award provided recognition for deserving furniture makers, and it also served as a vehicle to introduce the society to woodworkers beyond those in attendance at the annual Williamsburg conference. Fine Woodworking devoted a back cover to Harold Ionson just before the first meeting in 2000.
Harold Ionson, the first Cartouche recipient
was profiled on the back cover of Fine Woodworking
in early 2000.
Robert Whitley, Cartouche recipient in
Williamsburg, Virginia in 2002
The complete list of Cartouche recipients is available online at www.sapfm.org. In addition to being masters of the craft, one thing they have in common is a willingness to enthusiastically share what they have learned. Within SAPFM is an incredible well of knowledge that is readily accessible by any member.
In an article in Woodwork Magazine (#67, February 2001) about Ionson, Glenn Adamson had this to say about the future of SAPFM: "If the organization is to lead period makers into the future, it needs to do more than fight a holding action against the disappearance of traditional skills. It also needs to champion makers like Ionson, who are not content to produce their recreations 'by the book,' slavishly copying the makers of the past, but who instead use the monuments of furniture history as jumping-off points towards new approaches to woodworking."
The first edition of the annual journal appeared in 2001.
Then, as now, the recipient of the Cartouche award was
recognized in print. The hands in the cover
photo belong to Gene Landon,
Cartouche recipient in 2003.
Harold Ionson is recognized in the inaugural
edition of the SAPFM annual journal.
Twenty years ago information about historical pieces of furniture and how they were made was hard to come by. One of the initial goals of the society was to make things easier for following generations by sharing knowledge in every available form – in person at chapter meetings, classes or other events, online via website articles and forums, and print and digital publications. This is an ongoing, continual effort and SAPFM has grown to become an invaluable resource.
The first edition of American Period Furniture was published in 2001. In his first editorial Quentin Wheeler wrote: "We are limited only by our collective knowledge, curiosity, imagination, and willingness to pursue leads. The APF will be, we hope, truly and literally a publication by and for period furniture makers (as well as curators, designers, etc.)."
As SAPFM has grown, so has this journal from an initial publication of 38 pages to the form you are reading now. Then as now the authors are makers at the top of their game and the topics are beyond what any mass market woodworking magazine would publish.
Like a piece of fine furniture, the journal is intended to serve members with the highest quality content, with uncompromising standards for the publication. In the future the journal will be the permanent record of the state of the society at the time of publication. Current and future members benefit from the hard won acquisition of knowledge and skills of our contributors.
In addition to the journal, the quarterly digital newsletter, Pins & Tales has also grown, and the website is an online space to serve existing members and attract new ones. This wealth of readily available information is a major accomplishment.
Face to Face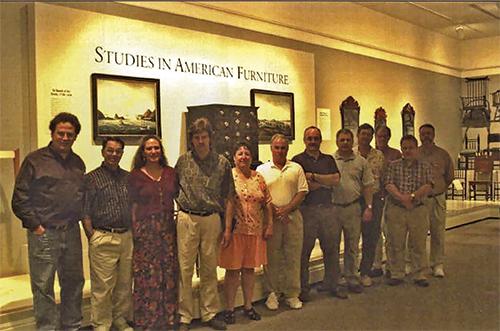 As valuable as media is, the heart and soul of the society is when members gather in meetings of the national organization, regional chapters or other events. In July 2001 a tour of Winterthur was organized and filled within two hours of being announced online. Group tours such as this often include the opportunity for greater access than what would be available to an individual.
In addition to the annual meeting and Cartouche banquet held every January in conjunction with the Williamsburg conference, mid-year conferences have been held every summer since 2002. The location of the mid-year changes annually and these weekend conferences feature visits to historic sites and collections, and programs on techniques. The Ohio River Valley Chapter, organized by David Conley was the first regional chapter to meet in May 2004, and there are currently twenty two regional groups.
The Next 20 Years
SAPFM has grown and prospered as an all volunteer, not for profit organization. It still depends on enthusiastic furniture makers, amateur and professional, from different walks of life and with different levels of experience to step up and contribute to the society.
In 2010, Callahan wrote this about the founding of SAPFM:
"Over a few beers at the Williamsburg Lodge, Steve and I began our friendship, and with other furniture makers at the Lodge, hatched the idea for what is now SAPFM.
"On numerous occasions, Steve and I have reflected on the growth and success of SAPFM and the future of the craft of period furniture making, so I asked him how he felt since resigning as President and Executive Council member a few years ago. Steve's reply was simple. "I've met some terrific people and have made some great friends. I now have a fantastic resource to answer any question about a technique or material relating to any facet of period furniture making. The journal is our jewel, and the website could not be more informative."
SAPFM members today enjoy the fruits of the enthusiasm, hard work and dedication of the founders and early members. As a way to express our gratitude we share in the responsibility to maintain those things so that those who follow us can likewise enjoy those benefits. As with traditions in furniture making, our collective wisdom and good fellowship should be preserved.
You can become a SAPFM member today and start enjoying the benefits of this unique organization. Join Now!