After completing a survey of SAPFM members, coordinating with the SAPFM Major Events Committee and the Board of Directors, the reluctant decision was made to cancel the 2021 Mid-year Conference at the University of Mary Washington (UMW) in Fredericksburg, VA.
We have coordinated with the University and our presenters/speakers and we are planning on having the conference at UMW on 24-27 June 2022. Its been a crazy year for everyone and many members expressed concern that there were just too many Covid related uncertainties to have a face-to-face conference in June 2021. Keep your fingers crossed that we will have a successful conference in June 2022.
Thanks,
Sam Rhodes
Chair, Major Events Committee

The 2020 SAPFM Board of Directors election results are in!
The Nominating Committee, chaired by Jim Crammond, submitted an outstanding list of candidates to serve on the Board. The Board of Directors wishes to express its appreciation to all candidates. Their willingness to contribute their time and energy to the Society is crucial to fulfilling its mission of providing member resources, publications, and events of high value to all members.
Please welcome three talented individuals as Board members starting in January. Joseph Corigliano and Mark Maleski were selected as new Board members and Dale Ausherman was reelected for another term. Each candidate will bring their unique backgrounds and diverse experiences to help SAPFM in the years to come.
In closing and on behalf of the SAPFM Board, we extend our renewed and sincere thanks to the outgoing Board members. Charlie Driggs and Greg Pilotti have contributed their valuable time and energy to help SAPFM grow as an organization. Their efforts and dedication to help SAPFM succeed for the past several years is, and will always be, valued and appreciated.
Thanks,
Dave Redlin
---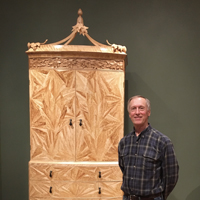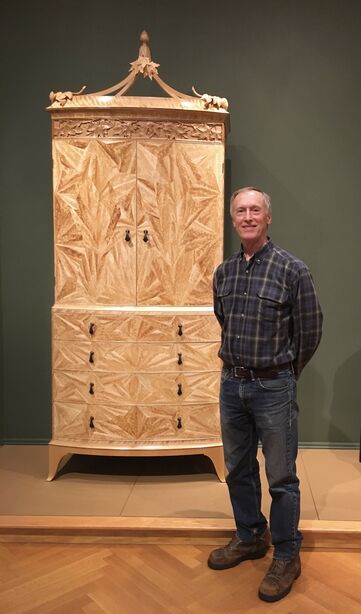 The SAPFM Cartouche Award Committee is pleased to announce the selection of David Lamb as the recipient of the 2021 SAPFM Cartouche Award. The Cartouche award recognizes an individual whose achievements best reflect the mission of SAPFM as reflected in the lifetime achievement of the recipient.
Traditionally, the award would be presented at the annual Cartouche Banquet held in conjunction with the Colonial Williamsburg Working Wood in the 18th Century conference in January. This year, because of the COVID virus, we cannot yet announce details of the award presentation (several alternatives are under active discussion) but we will update the membership and general public as soon as possible.
David Lamb's career started in Canterbury, NH almost 50 years ago when his family moved to Canterbury Shaker Village to run the Shaker museum there. Living within the historical setting and having a personal friendship with the six remaining Shakers gave him a unique insight into that segment of American folklife and the Shaker artistic and architectural output. Within a year of moving to Canterbury David was invited to be an apprentice with next door neighbor, Alejandro de la Cruz, an accomplished and traditionally trained cabinetmaker from Madrid.
The classic training David received over the three year period was thorough and focused on benchwork and all hand techniques and long discussions on design, proportion, aesthetics and the business of being a craftsman. Heavy emphasis on traditional American and European technique and form predominated the shop's output.
Contemporary art school was next at Boston University's Program in Artistry with Jere Osgood and Alphonse Mattia as teachers for his degree in Applied Arts. Thinking in non-traditional ways of creating form and aesthetic ideas was instrumental here.
It is these three aspects that drives David's design and work; classical form and integrity, Shaker directness and function and contemporary rethinking of graphic aesthetic and methods to accomplish them. In addition to these exposures, nature has played a huge part in what motivates David's design, both in form and detail by constantly drawing flowers and plants, carving them and incorporating these and other natural aspects in his work.
During his career he has been a 40 year juried member of the League of New Hampshire Craftsmen and has served as juror for over a decade. He is a founding member of the Guild of NH Woodworkers and regular contributor to their highly acclaimed Journal and is a founding member of The New Hampshire Furniture Masters Association where he has served as chairman for three terms. He was appointed New Hampshire Artist Laureate by Gov. John Lynch for two terms from 2010-2014. David also was a participant presenting traditional furniture making at The Smithsonian Folklife Festival representing NH in 1999 in Washington, DC.
Throughout his career as a full time furniture maker he has had innumerable furniture making opportunities building the highest level of historical work and just as important, pieces that rethink what tradition could mean. Collaborations with other artists and craftsmen play a big part in David's work but also the insightful feedback and exceptional contributions from his wife, Janet.
---
The MESDA Journal(www.mesdajournal.org) has published groundbreaking research on early southern decorative arts and material culture since 1975. Articles in the MESDA Journal are available free of charge through its website, as are digital versions of past issues published over the last forty-three years.
A recent issue discusses "Friendly Furniture in the Early South," a reference to The Religious Society of Friends, better known as the Quakers. The Quakers had a notable but sometimes overlooked influence on the settlement and material landscape of the early American South. The furniture making traditions of two Quaker communities in the South—one in the northern Shenandoah Valley of Virginia and the other in Piedmont North Carolina—are explored and contextualized in significant new articles published in the Journal.
Quaker cabinetmaking families that made furniture over a ninety-year span in the Winchester region of Virginia are revealed in an article by A. Nicholas Powers, curator at the Museum of the Shenandoah Valley. Quaker settlement of the area began in the 1730s and a third of the woodworkers documented as working in Winchester and Frederick County before the American Revolution can be identified as members of the Society of Friends. From the Scots-born joiner Alexander Ross working in the first half of the 18th century to the Fawcett family of furniture makers working into the 19th century, Quaker woodworkers were formative settlers and residents of the northern Shenandoah Valley.
A network of ideas and trade that spanned the length of the Great Wagon Road connected the Virginia Quakers with Friends from Philadelphia south to Piedmont North Carolina, where Robert Leath, MESDA's Chief Curator and VP of Collections & Research, thoughtfully explains the stylistic influences of three separate migration patterns in Guildford County, North Carolina. Leath establishes in his article that Quaker cabinetmakers in Guilford County produced decorative furniture between 1775 and 1825 that reflected their ethnic origins and professional training but also created a regional identity that trumped religious faith. A recently discovered shop ledger book and adept genealogical research skills allow Leath to reconsider long established attributions of surviving furniture and better identify the cabinetmakers working within Piedmont North Carolina's Quaker communities. Thomas Pierce, a Pennsylvania-born craftsman who migrated in the 1770s, and his apprentice David Osborne have been revealed as the earliest Quaker cabinetmakers in the region and work previously assigned to Jesse Needham has been re-attributed to Henry Macy, who was born on Nantucket Island and moved to Piedmont North Carolina with his family in the 1780s.
Shop and Give!
AmazonSmile offers a new way to contribute to SAPFM.
AmazonSmile is a website operated by Amazon with the same products, prices, and shopping features as Amazon.com. The difference is that when you shop on AmazonSmile, the AmazonSmile Foundation will donate 0.5% of the purchase price of eligible products to the charitable organization of your choice. It is easy to choose SAPFM to receive these donations from Amazon. These donations do not increase the cost of purchased items.
On either a desktop or mobile device simply go to www.smile.amazon.com and log in using your normal Amazon username and password. You will be asked to select your charity. Simply search for "SAPFM" and select. After the selection your shopping page will be exactly as you normally experience. Just be sure to log into smile.amazon.com rather than amazon.com. You can easily bookmark the smile.amazon site in your browser and shop from there.
If you prefer to shop from your mobile device you cannot use Amazon Smile with the Amazon App. However you can set up a shortcut to the Amazon Smile website which gives a near identical experience to the app. It's very quick and easy to do. For an iPhone or iPad do the following (there would be an equivalent method for an Android device):
Open Safari and type smile.amazon.com in the web address field. AmazonSmile will open.
Touch the share button (looks like a box with an arrow).
Touch Add to Home Screen.
Touch Add.
Regardless of your platform, every time you make an Amazon purchase, Amazon will be contributing to SAPFM. With our many members this can add up to a significant contribution to the mission of SAPFM! We encourage all to take these simple steps to contribute to the future success of SAPFM.