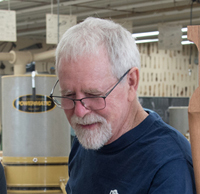 The woodworking community lost an icon with the passing of Phil Lowe in January 2021. He was well respected as an exemplary craftsman, author, and teacher. Phil was a long time SAPFM member, 2005 Cartouche Award recipient, frequent contributor to the annual American Period Furniture Journal, presenter at many of our events, and personal friend to many of us. He is survived by his wife and daughters. It is through their generosity that Phil's lifetime library of original drawings is being shared with the woodworking community without cost.
In order to preserve and share Phil's extensive library of drawings, they are being scanned and will be made available for public download on the SAPFM website. This effort is being led by Artie Keenan, Phil Lowe's dear friend and right hand man, along with Nick Maraldo, Phil's longtime student and instructor at the Furniture Institute of Massachusetts and SAPFM member. We thank these two gentleman for taking on this tremendous task.
A fundraising event will be ongoing to cover the expense of digitally scanning these drawings. If you would like to support this effort you can visit the fundraising site here . As scans are completed they will be made available for download. Please check back regularly as this is an ongoing effort.
With the preservation of Phil Lowe's Drawing Library his legacy will continue as he teaches us for years to come.
Downloads
Note: Select the image to see a thumbnail version of the file. Select the filename itself to initiate download.