Announcement
Ronnie Young Online Class at Highland Woodworking
‍Creating Classic Inlay Furniture Elements - Shell Paterae
taught by Cartouche Award Winner Ronnie Young
Monday, November 30, 2020 8:00 - 10:00 PM ET
Ronnie will explain how to choose and use a packet of contrasting veneers to make a beautiful shell ready to inlay into your special project. Using a powered scroll saw, bench chisels, hot plate and sand for shading, Ronnie will teach you how to create and assemble a beautiful period furniture element.
---
Colonial Williamsburg's 2021 Working Wood in the 18th Century Conference - Registration Open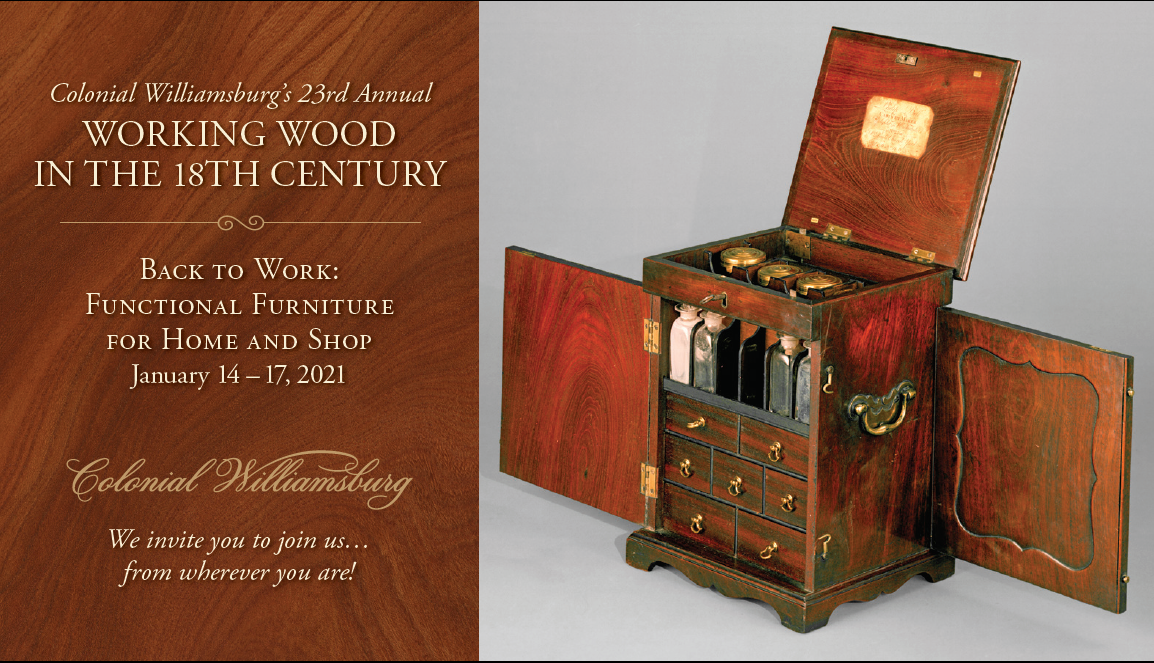 "Back to work!" Whether you are back in your regular workplace, or working from home, we all know this sentiment well.
Work, in the 18th century, took many forms from gentry avocations to daily vocations and labors of most people regardless of race, gender or age. At this year's conference, we invite you to join us virtually as we explore furnishings, fixtures, and tools designed for work at home and in the shop. Catch livestreamed and on-demand lectures and demonstrations, interact virtually with speakers and other attendees, and enjoy exclusive looks at furniture and places rarely explored by the public, all from the comfort of your own home-or shop!
Registration Is Now Open - REGISTER HERE
---
Dr. and Mrs. Thomas H. Sears, Jr. Honored by MESDA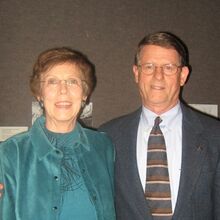 Tom Sears has been an active member of SAPFM, serving on the mid-year committee and the board of directors for 9 years.
He has been instrumental in SAPFM efforts to connect and develop relationships with the museum works. He was responsible for our two mid-years at MESDA and Olde Salem in 2012 and 2017. Sara has served as hostess at both the MESDA events as well as being present at other mid-year events. They are both great supports of SAPFM.
Both Tom and Sara will be honored for their contributions and efforts for MESDA and Olde Salem at a virtual presentation July 31.
You can learn more about this event at https://www.oldsalem.org/historicsummer/#CARES-Act-Tax-Benefits
Quoting from the Olde Salem web site:
"All donors to the campaign will receive an invitation to join us for the Frederic William Marshall Award virtual ceremony on Friday, July 31st. This year, we are pleased to present the award to three dedicated individuals: … Tom and Sara Sears have been (almost!) as committed to historic preservation and collecting as they are to each other. From Tom's accomplishments as a woodworker to their reconstruction of the 1819 John Vogler house to their years of targeted collecting, the Sears's generosity, spirit, and dedication is inspiring and undeniable."
Cartouche Award Nominations Welcomed beginning July 15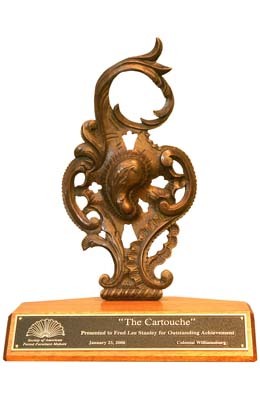 You May Not Realize You Know the Next Winner
Each year the SAPFM Cartouche Selection Committee identifies a candidate that exemplifies the qualities of a craftsman that has demonstrated a lifetime excellence in furniture making.
But that process is dependent on members making recommendations or even submitting nominations. Without your help, it can be hard to identify possible candidates. As an example, if it were not for the late Tom Cowan and John Ogilvie taking the lead, Ronnie Young might not have been selected as the 2016 recipient. Tom actively encouraged Ronnie and John helped with photography.
A similar example was when Bruce Hubbard asked Ray Journigan to submit his package in 2017. Ray refused and was reluctant to even allow Bruce to put the package together. But thanks to Bruce's persistence Ray relented. Then with the help of Roger Hall, Bruce was able to develop most of the package and finally get Ray involved. Clearly, Ray would never have been awarded the Cartouche if it were not for Bruce and Roger.
This highlights how we depend on you our members to recognize the accomplishments and skills of others and to encourage them to submit their application for consideration. Take some time to think about people you know or have met or whose work you have seen. Maybe you will be the one who identifies the next Cartouche recipient.
While there are no specific criteria for the type work or the full range of skills or experience that is required, SAPFM does have suggested guidelines that the Cartouche Selection Committee may consider. It is intended to provide a general idea of some of the traits a qualified candidate may possess:
Nominees should have a "Lifetime" of excellence in building period furniture with a large body of work.
The award should be presented to a "maker(s)" of period furniture. Recipients of an individual award may include two individuals although only one cartouche listing and one trophy will be given.
Nominees are not required to be members of SAPFM.
Institutions may not be nominated for the Cartouche Award.
Nominees should have a body of work which demonstrates excellence in the craft of furniture making.
Nominees should have demonstrated excellence in the skills associated with period furniture construction.
Nominees should support and be committed to SAPFM ideals, goals and objectives as demonstrated through service to others in the field of furniture making. Examples of service might include mentoring, teaching, writing and other ways to bring greater awareness and advancement of the craft
Submissions are accepted from July 15 until end of day September 1. Submissions must be in our hands no later than end of day September 1.
Those who have submitted their material the previous year may carry forward that application to the current year by simply sending a letter requesting that the previous material be considered for the coming nomination process.
Many of our previous Cartouche award recipients have said they do not consider they are worthy of the award. We are sure many of us know some very skilled friends inside and outside SAPFM that exhibit many of the same skills, experience, and quality of work of our previous awards recipients. We encourage you to consider bringing those names forward for consideration. If you are unsure or would like to get feedback, please contact Steve Latta ([email protected]) or Ken Johnson ([email protected]).
The guidelines for submission can be found here. Applications are accepted from July 15 until end of business September 1 (assuming that is not a holiday).
Ken Johnson
Planning for 2021 Mid Year Underway!!
You might call this 2020 Mid year 2.0 as we again plan to be at the University of Mary Washington and partnering with their Center for Historic Preservation. The dates will be 25-28 June 2021. We're putting together a great line up of speakers and presenters and are happy to say most of the ones who signed up for this year are looking forward to joining us next year. Keep your fingers crossed, mark your calendars and we'll look forward to a successful mid year.
Support SAPFM via Amazon Smile
Shop and Give!
AmazonSmile offers a new way to contribute to SAPFM.
AmazonSmile is a website operated by Amazon with the same products, prices, and shopping features as Amazon.com. The difference is that when you shop on AmazonSmile, the AmazonSmile Foundation will donate 0.5% of the purchase price of eligible products to the charitable organization of your choice. It is easy to choose SAPFM to receive these donations from Amazon. These donations do not increase the cost of purchased items.
On either a desktop or mobile device simply go to www.smile.amazon.com and log in using your normal Amazon username and password. You will be asked to select your charity. Simply search for "SAPFM" and select. After the selection your shopping page will be exactly as you normally experience. Just be sure to log into smile.amazon.com rather than amazon.com. You can easily bookmark the smile.amazon site in your browser and shop from there.
If you prefer to shop from your mobile device you cannot use Amazon Smile with the Amazon App. However you can set up a shortcut to the Amazon Smile website which gives a near identical experience to the app. It's very quick and easy to do. For an iPhone or iPad do the following (there would be an equivalent method for an Android device):
Open Safari and type smile.amazon.com in the web address field. AmazonSmile will open.
Touch the share button (looks like a box with an arrow).
Touch Add to Home Screen.
Touch Add.
Regardless of your platform, every time you make an Amazon purchase, Amazon will be contributing to SAPFM. With our many members this can add up to a significant contribution to the mission of SAPFM! We encourage all to take these simple steps to contribute to the future success of SAPFM.
Winterthur Furniture Up Close Event - Postponed
Winterthur Furniture Up Close - Event Postponed
The furniture event at Winterthur originally scheduled for April 23 - 24 has been postponed due to the coronavirus. Please see Winterthur's Response to COVID-19 for details.
---
Announcements
Tony Kubalak Recipient of 2020 Cartouche Award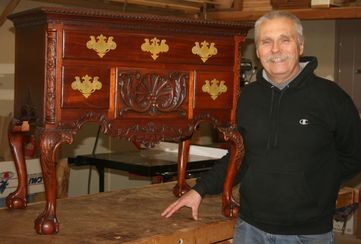 The SAPFM Cartouche Award Committee is pleased to announce the selection of Tony Kubalak as the recipient of the 2020 SAPFM Cartouche Award. The Cartouche award recognizes an individual whose achievements best reflect the mission of SAPFM as reflected in the lifetime achievement of the recipient. The award will be presented to Tony at the annual Cartouche Banquet to be held in conjunction with the Colonial Williamsburg Working Wood in the 18th Century conference on January 17, 2020.
Tony came to period furniture making as an avocation a little later in life. Initially he was captivated and intrigued by the shells on a Newport Six Shell Secretary he had seen in a magazine. The intrigue turned into a quest to understand and learn how to create them. Over the next fifteen years he learned basic woodworking skills, including hand cut dovetails, from books, videos and an occasional weekend class. However, he resigned himself to only being able to build pieces with a hint of 18th Century design.
This changed in 1999 when he took his first class with Gene Landon at Olde Mill Cabinet Shoppe in York, PA. Over the next eleven years he traveled the 2200 mile round trip from Minneapolis to York multiple times a year, making seven trips in one year. His progress started out a little slow, but with persistence, his skills steadily improved. His first project, a Chippendale Arm Chair, took four years to complete, but after that the pieces became more manageable as his skills and confidence improved. At the same time his interest turned into a passion which continues to this day.
Tony has won over ten awards for his work at the Northern Woods Show, an annual exhibition sponsored by the Minnesota Woodworkers' Guild. For nine consecutive years he was listed in Early American Life's Directory of Traditional American Crafts. His work has been featured several times in Fine Woodworking Magazine, Woodshop News and Woodwork Magazine. He authored a Master Class Article in Fine Woodworking that subsequently led to an opportunity to write his first book, Carving 18th Century Furniture Elements. That experience prompted him to write a second book, Carving 18th Century Motifs. A third book on building a highly carved Chippendale Dressing Table is in progress.
In addition to writing books, he recently has started to offer classes. He wants to specialize in helping others build high style pieces because of his passion for them and because he sees a void in this area.
Tony's main interest is in high style Philadelphia Queen Anne and Chippendale pieces. He is drawn to the carvings because of their beauty and challenge. He has traveled several times to museums to measure and photograph pieces of interest. He is currently in the middle of building the Willing Card Table and has documentation for, and plans to build several of the Cadwalader pieces.
You can see more of his work at www.TonyKubalak.com.
Please join fellow SAPFM members to help Tony and his family celebrate his achievements at the Cartouche Banquet and reception to be held in the Williamsburg Lodge at 6:00 pm on Friday, January 17, 2020. Online registration for the Banquet will open on our website in late November or early December. One need not be a participant in the Working Wood Conference to attend our SAPFM Banquet.
We thank Cartouche Selection Committee coordinators Ken Johnson and Steve Latta, and Committee members Al Breed, Greg Landrey, Jeffery Roberts, Gary Sullivan, David deMuzio, Ronald Young, and Ben Colman for their hard work reviewing applications and the difficult task of selecting the recipient from other well-deserving nominees.
Ken Johnson
SCOTT SEVERNS - New SAPFM Vice President / President Elect

On behalf of the Board, we would like to welcome Scott Severns as the new SAPFM Vice President/President Elect. Scott will take on the role as Vice President for 2020 and on to President starting in 2021. A Delaware Valley Chapter Member, Scott's long term business experience and energy will be a great asset to the Board. Scott has owned/operated
Oak Mountain Custom Woodwork
for the past 15 years.
Please join us in welcoming Scott!
SAPFM Board of Directors
2019 Midyear Conference
SAPFM's mid year conference just concluded on July 29.The Greenville Woodworkers Guild in Greenville SC was our host for the conference attended by more than 90 SAPFM and Guild members.
The conference included special presentations by Dr Daniel Ackerman from MESDA and Chris Swartz from Lost Art Press. There were demonstrations by Elia Bizzari, Bob Van Dyke, Bob Stevenson, Michael Mascelli, Brian Weldy, and Ray Journigan on a variety of topics include carving, upholstery, Windsor chairs, wooden planes and inlays to name just a few. There were also bus trips to nearby historical sites on Friday and Monday.
Some pictures from the event are shown below. Look forward to a complete story in the next Pins & Tales detailing all the events during the busy 4 day event.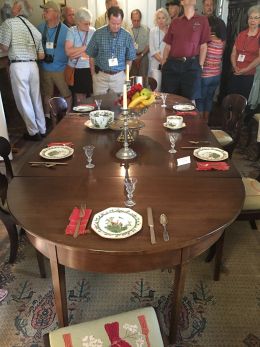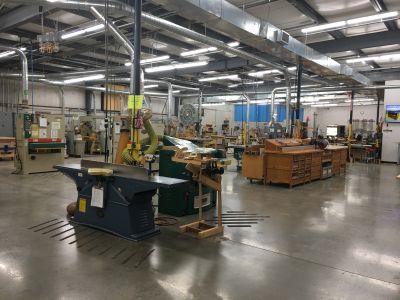 SAPFM Policy - Custom SAPFM Logo Shirts for Chapters
Through significant SAPFM Board effort and investment in inventory, for some time now SAPFM has been able to offer members standard logo shirts which can be purchased individually at our online store on the member's-only part of our website (www.sapfm.org/sapfm-store). Some chapters also choose to arrange for shirts customized to their specific chapter, by adding a chapter designation to the standard logo and ordering a number of shirts at a single time. There is a specific SAPFM-approved process and source for so doing.
We have a vendor who operates our online sales of individual standard logo shirts. This vendor has invested substantial time in working with us to set up the store, as well as working with us to develop what is now the standard logo file. We tried for several years to find a SAPFM volunteer willing to manage shirt sales to members. We were unable to find a volunteer and so co-invested our effort with this vendor. In return for his substantive efforts at setting up and running the store for us, we have committed to having our Chapter-specific needs handled by him as well.
Thus if your chapter desires a number of shirts or other clothing items with our standard logo augmented by your Chapter identification please contact our vendor:
Howard of Hatlanta ([email protected])
Howard Segan
770-380-5253
www.hatlanta.biz
Howard will work with you to select the clothing item from his catalog (these items do not have to be those offered on our website), to determine the chapter name, and to negotiate on price depending on the number of shirts desired.
Using this single vendor enables SAPFM to continue our online store for normal logo shirts in service to our members.
Thank you for your support of SAPFM and for your cooperation.
Board of Directors
Museum of Early Southern Decorative Arts MESDA Journal Provides Informative Articles on American Period Furniture
The MESDA Journal(www.mesdajournal.org) has published groundbreaking research on early southern decorative arts and material culture since 1975. Articles in the MESDA Journal are available free of charge through its website, as are digital versions of past issues published over the last forty-three years.
A recent issue discusses "Friendly Furniture in the Early South," a reference to The Religious Society of Friends, better known as the Quakers. The Quakers had a notable but sometimes overlooked influence on the settlement and material landscape of the early American South. The furniture making traditions of two Quaker communities in the South—one in the northern Shenandoah Valley of Virginia and the other in Piedmont North Carolina—are explored and contextualized in significant new articles published in the Journal.
Quaker cabinetmaking families that made furniture over a ninety-year span in the Winchester region of Virginia are revealed in an article by A. Nicholas Powers, curator at the Museum of the Shenandoah Valley. Quaker settlement of the area began in the 1730s and a third of the woodworkers documented as working in Winchester and Frederick County before the American Revolution can be identified as members of the Society of Friends. From the Scots-born joiner Alexander Ross working in the first half of the 18th century to the Fawcett family of furniture makers working into the 19th century, Quaker woodworkers were formative settlers and residents of the northern Shenandoah Valley.
A network of ideas and trade that spanned the length of the Great Wagon Road connected the Virginia Quakers with Friends from Philadelphia south to Piedmont North Carolina, where Robert Leath, MESDA's Chief Curator and VP of Collections & Research, thoughtfully explains the stylistic influences of three separate migration patterns in Guildford County, North Carolina. Leath establishes in his article that Quaker cabinetmakers in Guilford County produced decorative furniture between 1775 and 1825 that reflected their ethnic origins and professional training but also created a regional identity that trumped religious faith. A recently discovered shop ledger book and adept genealogical research skills allow Leath to reconsider long established attributions of surviving furniture and better identify the cabinetmakers working within Piedmont North Carolina's Quaker communities. Thomas Pierce, a Pennsylvania-born craftsman who migrated in the 1770s, and his apprentice David Osborne have been revealed as the earliest Quaker cabinetmakers in the region and work previously assigned to Jesse Needham has been re-attributed to Henry Macy, who was born on Nantucket Island and moved to Piedmont North Carolina with his family in the 1780s.
Upcoming Events
Grinling Gibbons Tour Hosted by Mary May - Rescheduled to September 20 - 30, 2021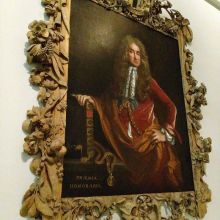 Have you ever seen woodcarvings where you wonder "How can this be carved by human hand"?
Mary May, who has been teaching woodcarving classes for the past 15 years, will be hosting a tour of the fabulous 17th century English woodcarver, Grinling Gibbons. His deeply ornate carvings often appear to defy gravity.
Originally scheduled for early May 2020, this tour has been rescheduled for September 20 - 30, 2021. Happily, there is an advantage to visiting London in 2021 ... it is the tercentenary (300th anniversary) of his death. Special celebrations and exhibits will be happening throughout London during this time.
The tour will focus on visiting churches, grand homes, palaces, and museums where his magnificent carvings are displayed such as St. Paul's Cathedral, Hampton Court Palace, and the Victoria and Albert Museum around London, England. The tour will also venture outside of London to Oxford and the Petworth House to view more of the amazing Gibbons work. There will be a few free days to explore on your own but most days will have guided tours focusing on learning, discovering and admiring his historic carvings.
Come join the fun and be inspired! More details here. Contact Mary May at [email protected] for more information.
Exhibitions
There are no current exhibition articles