Pins & Tales is the quarterly digital newsletter of SAPFM, published in Adobe PDF format. Issues are sent to current members at the end of March, June, September and December with the latest listings of classes, events, news and articles on research, construction and finishing of historical forms of furniture. Members also have access to all previous issues of the quarterly. This is just one of the many benefits of SAPFM membership.
---
The SAPFM editorial team proudly presents the Winter 2022 issue of our quarterly eMagazine Pins & Tales.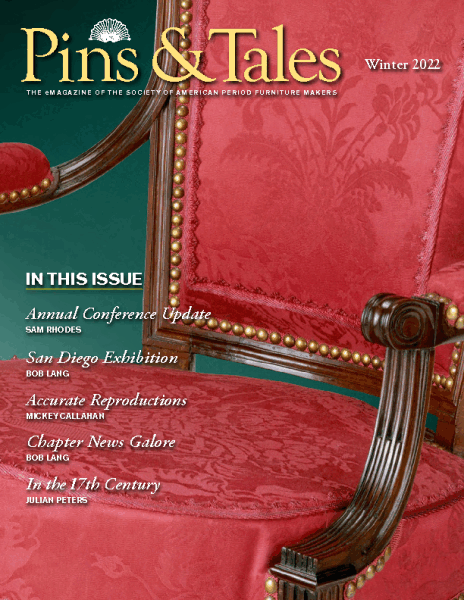 We wish all of our fellow members the best for the coming year. One major change to be aware of is to our annual conference, (formerly called the Mid-year) which will be held in New Bern, North Carolina at the end of April. Our venue will be at the North Carolina History Center adjacent to Tryon Palace and the Major Events Committee has an incredible program that includes our Cartouche Awards Banquet. Make sure to read all the details, plan your trip and be ready for registration to open later this winter. This conference is your opportunity to see original examples of period furniture up close, learn from Cartouche recipients and other experts, and to catch up with your friends from around the country.
This issue also covers what several of our regional chapters have been up to during the last few months – they have been busy! Our thanks to the chapter leads who coordinated recent meetings and to the members who sent in reports and photos about those meetings. In addition Pins & Tales points you toward upcoming events at museums and historic sites, in-person classes and online resources. We also feature an article by SAPFM co-founder Mickey Callahan about how to measure antique pieces while keeping curators happy and furniture safe. You will also read about two of our favorite teachers who were featured in national media recently along with our other regular features.
Pins & Tales is one of the many benefits of SAPFM membership along with our newly revamped website and our annual journal, American Period Furniture. This year's journal is in the mail and our delivery has improved. Make sure you help spread the word about our society to your friends and neighbors, either in person or through you social media accounts. There are a lot more folks out there who could be enjoying SAPFM but don't know about us yet. If you have an idea for an article for either of our publications get in touch with me to find out how easy it can be and how much it helps everyone in the organization when you share what you have been working on.
Our publications, events and chapter meetings all depend on you to share your efforts in making furniture and helping our organization run smoothly. If you can make time to volunteer there are numerous ways to contribute and every volunteer is important. Your local chapter always needs assistance planning, organizing and conducting meetings. If there isn't an active chapter in your area, consider getting one going or stepping up to revitalize one. At the national level we are on a search to fill some important leadership roles in the organization, and you just might be the ideal candidate.
What we gain from our membership is directly related to what we give back, so we hope that you will get involved in keeping SAPFM healthy and growing.
---
Not a SAPFM member? Why not consider joining today and gain access to this valuable reference.