Pins & Tales is the quarterly digital newsletter of SAPFM, published in Adobe PDF format. Issues are sent to current members at the end of March, June, September and December with the latest listings of classes, events, news and articles on research, construction and finishing of historical forms of furniture. Members also have access to all previous issues of the quarterly. This is just one of the many benefits of SAPFM membership.
---
The SAPFM editorial team proudly presents the latest issue of our quarterly newsletter Pins & Tales.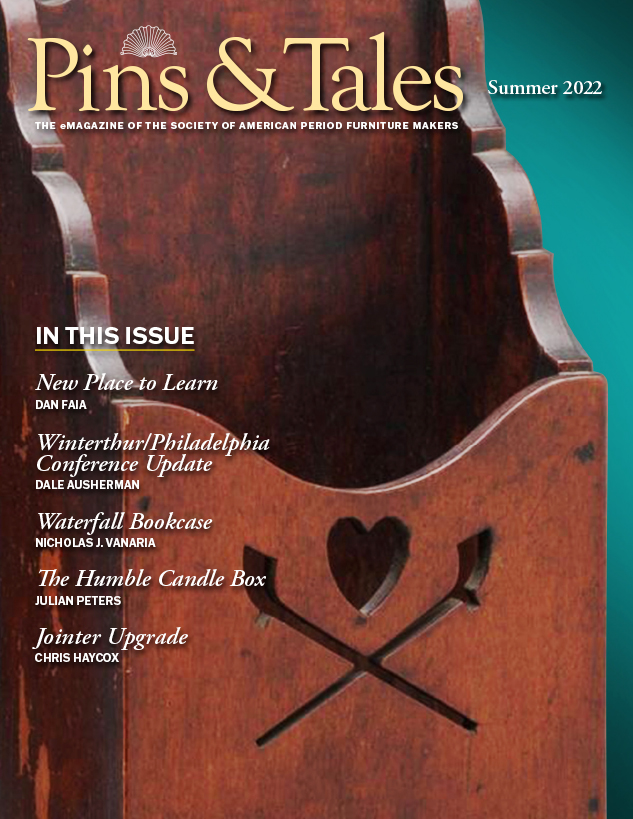 This issue follows the 2022 SAPFM Mid-year Conference held in Fredericksburg, Virginia. Many thanks to our special events committee for putting together our first in-person get-together since the Covid pandemic put our gatherings on hold in 2022. If you couldn't attend watch for a full report in our fall issue. If you were present, please send me your thoughts on this event. Let's let the enthusiasm generated by this inspire us to be active during the summer and fall.
Inside you will find that our organization has had a busy spring. We include reports on several of our regional chapters most recent meetings, and a detailed report on the recent inlay conference held at Winterthur where SAPFM members were well represented. Visit our website to find out what your local chapter has on tap. We also have listings for upcoming classes in July, August and September. Classes are a wonderful opportunity to grow your skills, meet like-minded people and spread the word about the benefits of SAPFM membership. You'll also learn about a new learning opportunity in New Hampshire.
We also feature a waterfall bookcase project from one of our members and the story of how another member gave new life to an old machine. In addition our art director, Julian Peters shares his work and inspiration to use small projects to expand his skills without breaking the budget or filling his house. As always we point you to interesting content online and at museums and other historic sites.
Pins & Tales is one of the many benefits of SAPFM membership along with our newly revamped website and our annual journal, American Period Furniture. This year's journal is well underway so don't forget to check your membership status online to make sure you are up to date before November 1, 2022. That puts you on the mailing list to receive the journal in December. If you have an idea for an article in either of our publications get in touch with me to find out how easy it can be.
Our publications, events and chapter meetings all depend on you to share your efforts in making furniture and helping SAPFM run smoothly. If you have some extra time to volunteer there are many ways to contribute. What we gain from our membership is directly related to what we give back, so we hope that you will get involved in keeping SAPFM healthy and growing.
---
Not a SAPFM member? Why not consider joining today and gain access to this valuable reference.