by Dale Ausherman
The highly successful 2019 Midyear meeting was held at an exciting new venue for SAPFM, involved a new slate of presenters, and enabled tours of four Southern historic properties with incredible period furniture.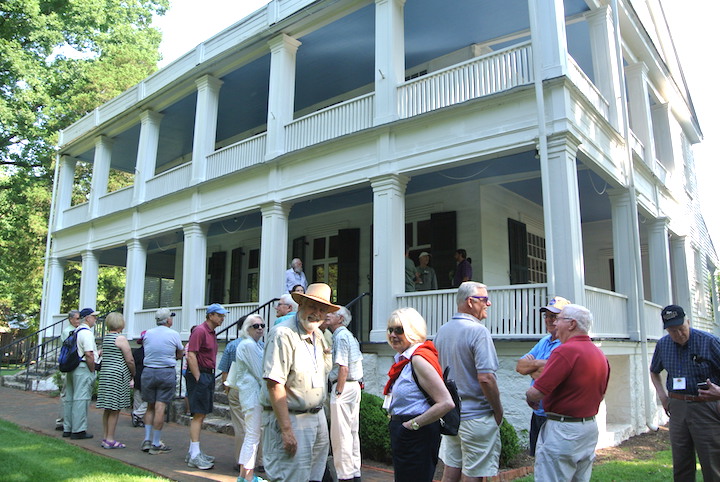 Woodburn Plantation HouseBoard member and 2019 Midyear chairman Scott Wetter had previously discovered the Greenville Woodworkers Guild (GWG) in Greenville, South Carolina and realized that its superb facilities, local hotels, and nearby historic sites were ideal for our Midyear. The GWG, with over 700 members, has a world class facility with amazing shops, instruction rooms, space for dining, and an auditorium with tiered seating for 300. Scott and his team (noted below), along with Guild members, worked for well over a year to plan and conduct this multifaceted meeting. The meeting was attended by nearly 70 SAPFM members, about 30 GWG members, and 25 spouses. All were highly complimentary of the superb program.
The meeting commenced with an optional Friday bus trip with tours of the Woodburn and Ashtabula Plantation house sites operated by the Pendleton Historic Foundation (www.pendletonhistoricfoundation.org). We were once again fortunate that board member Tom Sears leveraged his credentials in the museum and collectors world to arrange preliminary visits to the historic sites, to plan for tours focused on furniture, and to gain our members unprecedented access to the furniture construction details. Highly knowledgeable tours of these two plantation houses and their contents were led by Dr. Tim Drake, Jr. and Jordan Bannister of the Pendleton Historic Foundation. Both houses were furnished with furniture and decorative arts from the 18th and 19th centuries, many pieces original to the houses.
Woodburn is a fine example of the Upcountry plantation house built by Low Country planters as summer houses in the early 19th century. It was built ca. 1830 by Charles Cotesworth Pinckney (onetime South Carolina Lieutenant Governor) who occupied the house in the summers to escape the heat and malaria on the coast. It was sold in 1850 to Rev. John B. Adger, who added the double piazzas, and then owned by members of the Adger family until 1911. Clemson University acquired the property in the 1930s and transferred it to the Pendleton Historic Foundation in 1966. Another notable resident of Woodburn was the African-American social worker Jane Edna Hunter, whose parents were wage earners on the plantation farm. (https://en.wikipedia.org/wiki/Jane_Edna_Hunter)
"The meeting was attended by nearly
70 SAPFM members, about 30 GWG
members, and 25 spouses."
My favorite architectural feature on Woodburn and many other Southern houses of the 19th century is the painted blue porch ceilings. I have noted this feature on many of the Southern homes we have toured as part of SAPFM events. Tim Drake indicated that this was not only decorative but that the particular color (Heavenly Blue) discourages insect mud daubers from making nests on the ceilings. He should know as he has a Ph.D. in Entomology.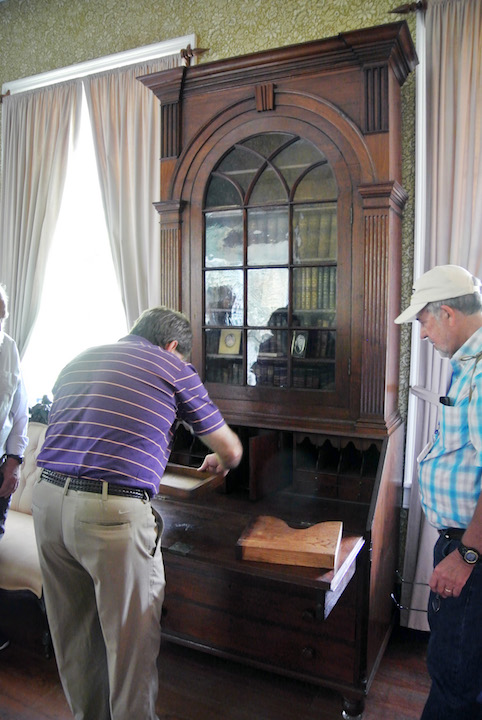 Woodburn House Desk and SecretaryWoodburn was full of many unique and interesting pieces but a tour favorite was the Alexander Saw desk and secretary. This wonderful 1808 Walnut piece with a large paned arched door is thought to be Saw's masterpiece. The second owner of this piece wrote a lengthy inscription on the side of a document drawer recording its history through December of 1865 and asked that the piece be retained by his son to "hand it down to the family as an old relic." Dr. Drake removed drawers for our members to pour over with our ever present flashlights.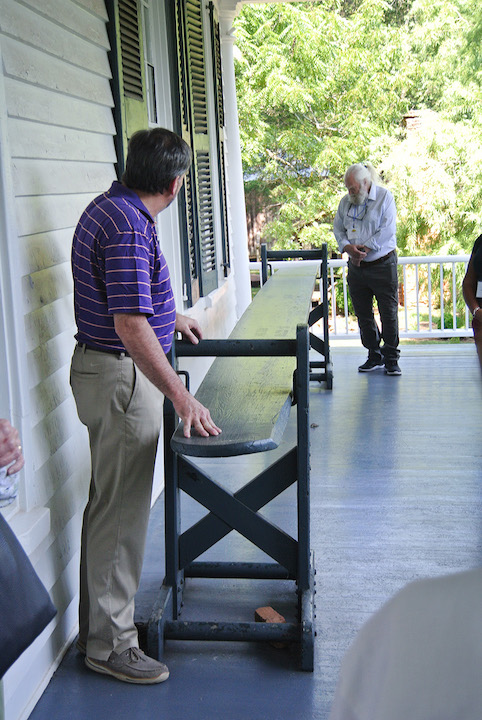 Woodburn Joggling BoardAnother interesting artifact at Woodburn was the joggling board on a porch. This a long, pliable board that is supported on each end by wooden stands. The board is springy and a person sitting on it can easily bounce up and down. It was thought to relieve upset stomach and to entertain children. Its usage in the Low Country of South Carolina around Charleston in the early 19th century is well-documented.
After a box lunch under the Woodburn pavilion attendees took a short bus trip to the second Pendleton site, the historic Ashtabula Plantation, with its two-story main house (also with blue porch ceilings) and a two story dependency. The dependency was a ca. 1790 building operated as a traveler's tavern until early 1820s, while the main house was begun in 1825 by Lewis Gibbs and his wife Maria. Both died before the house was completed. The farm was then operated by their son Lewis Gibbs, a renowned naturalist who assisted Audubon in South Carolina. The property was owned by the Adger-Bowen family during the Civil War, after which it became known for its Jersey cattle.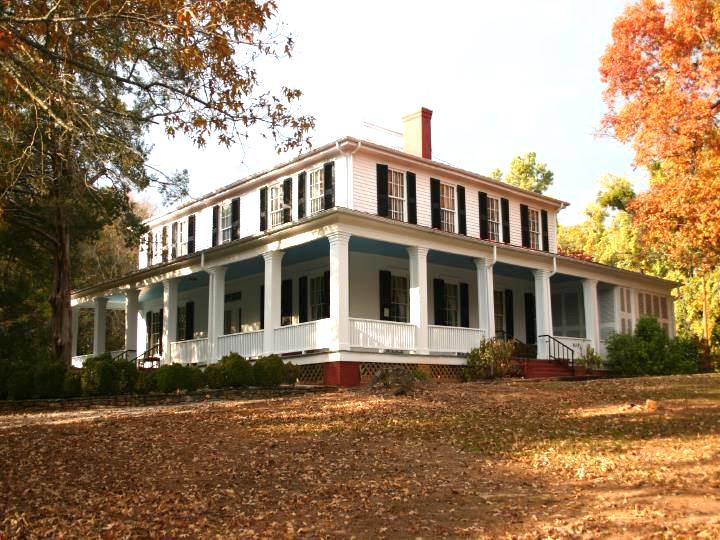 Ashtabula Plantation HouseAshtabula was furnished with many extraordinary 18th and 19th century furniture pieces, many from the original occupants. Our members descended like a swarm of fireflies with flashlights to examine the details, while Tim regaled us with historic details. A particularly special piece was the highboy in the dining room. This 18th Century piece was owned by the Bowen Family and had all of its original brasses, unusual for Southern civil-war-era pieces because most furniture brasses were donated to the war effort for the making of cannons.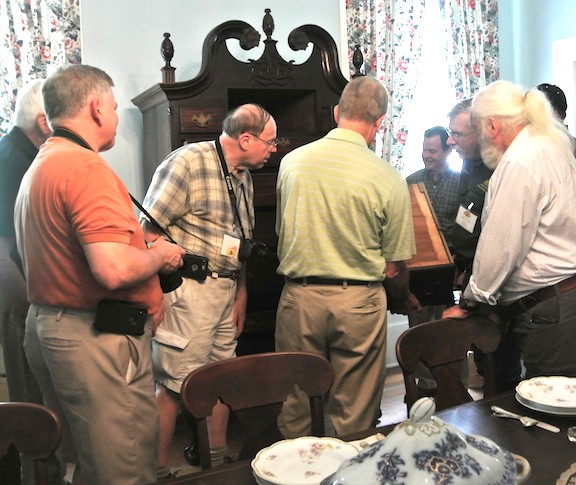 In May of 1865 Union troops in pursuit of Jefferson Davis raided Ashtabula on their way to Anderson, South Carolina, in what is known as Brown's raid. (This occurred AFTER the surrender of Lee to Grant, and the April assassination of Lincoln.) The family was dining when the troops were spotted coming up the drive, whereupon the family and enslaved servants put the silver service on top of this highboy to hide it. Later during the occupation the silver was buried in the barnyard. Pieces of the retrieved silver set were on display on the dining table during our visit.
Following our visit to the plantation homes, attendees and spouses returned to the GWG facility for shop tours, a beer and wine reception, and the catered Friday dinner. Then we gathered in the auditorium for an introductory presentation by Chairman Scott Wetter and a welcoming presentation by GWG President Rob Barhorst. Dr. Daniel Ackermann, Curator of Collections at the Museum of Early Southern Decorative Arts gave the Midyear kickoff "More than Just a Pinterest Board: How Curators Look at Furniture." He addressed what makes one piece of furniture more important than another, and what furniture can tell us about the craftsmen and consumers of the past.
The three featured Saturday 1½ hour instructional rotations were given by instructors new to our Midyear series: Bob Stevenson, Bob Van Dyke, and Elia Bizzarri, substituting for Curtis Buchanan who had a last minute illness.
Bob Stevenson, 2019 Cartouche winner, demonstrated inlays involved in the construction of a Seymour tambour desk, including the leg paterae and bell flowers, and the amazing tambour door bellflower swags inlay that was featured in Fine Woodworking magazine (September 2017, issue # 263) and in American Period Furniture 2018. Bob began his presentation with the lives and careers of cabinetmakers John and Thomas Seymour, their beginnings in England, immigration to Portland Maine, and their move to Boston, where the full flowering of their Federal Seymour style occurred. Thomas Seymour died a relative pauper in 1843.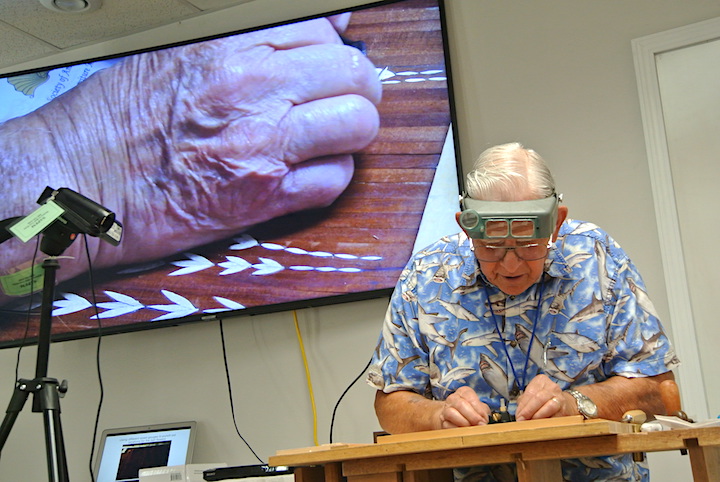 Bob Stevenson Bell Flower Inlaying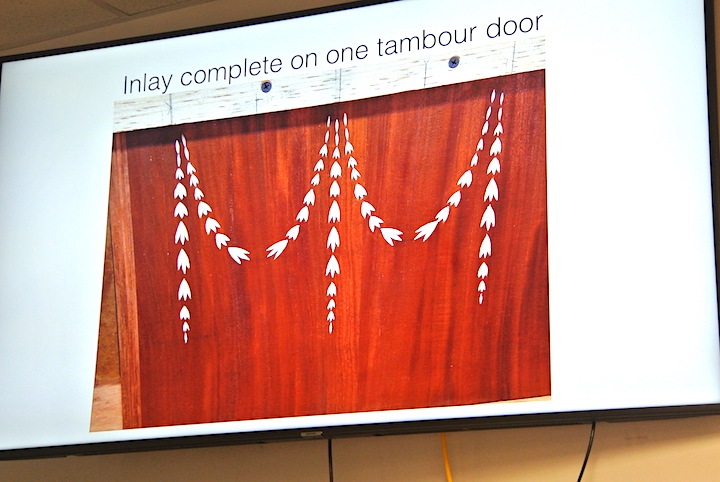 Bob Stevenson Inlaid Tambour Door
Bob gave a superb presentation of the inlay processes he developed, with many slides as well as use of the GWG video equipment to show close up views of his work as it proceeded. He showed the tools and materials used, and unique jigs such as one for safe and accurate cutting of the small tambour strips on a table saw. The original Seymour process for making and inlaying of the tambour doors is not documented, so Bob developed his own approach. He gave details and rationale for each step, such as experiments to determine the required depth of the inlays so that portions of the bell flowers did not disappear when the tambour strips were "beaded" after inlay. Bob provided a sheet of references including the Mussey Seymour book, wood suppliers, specific tool sources, and where to find an article on building the Steve Latta Mini Bench-on-Bench.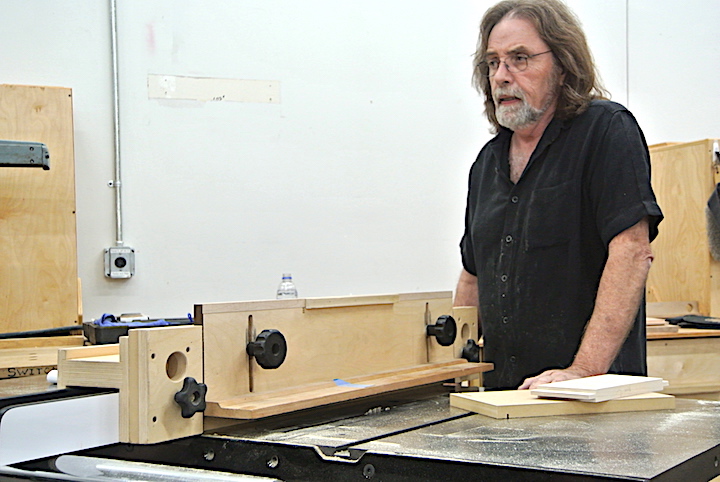 Bob Van Dyke Table Saw InstructionBob Van Dyke, former editor of Pins & Tales demonstrated the use of shop-made table saw jigs and fixtures designed to increase efficiency and accuracy. His key "jig" is the crosscut sled, which he indicated is not just for cutting large pieces, but for small work as well. His sled was equipped with a long auxiliary fence on which he clamped various stop blocks. He showed a flip stop, a precision screw stop, and a sliding stop for small parts. (See Bob's article in FWW magazine Mar/Apr 2017, "3 Handy Stop Blocks.")
He also demonstrated a dovetail jig mounted on a pair of inexpensive miter gauges to run in both miter slots, used to cut perfectly perpendicular dovetail sides. This can be used with a normal saw blade (requiring a bit of additional paring of the "pin end" surfaces, but can also be used with a blade ground to the desired angle for paring-free tails.
Bob also demonstrated the cutting of tenon cheeks with a pair of saw blades separated by a spacer to match the tenons to the mortise width. He then showed a simple L-fence attachment to enable trimming of the tenon shoulders with no danger of the cutoff becoming trapped between the blade and fence. He also showed a more complex and adjustable L-fence as part of a multipurpose fence, and demonstrated how it can be used to make cuts around a straight-line pattern template. Bob has written on the multiple uses of an L-fence (FWW magazine Tools & Shops 2014 "The Incredible L-fence"). He completed the session by showing an ingenious technique to cut knuckle joints.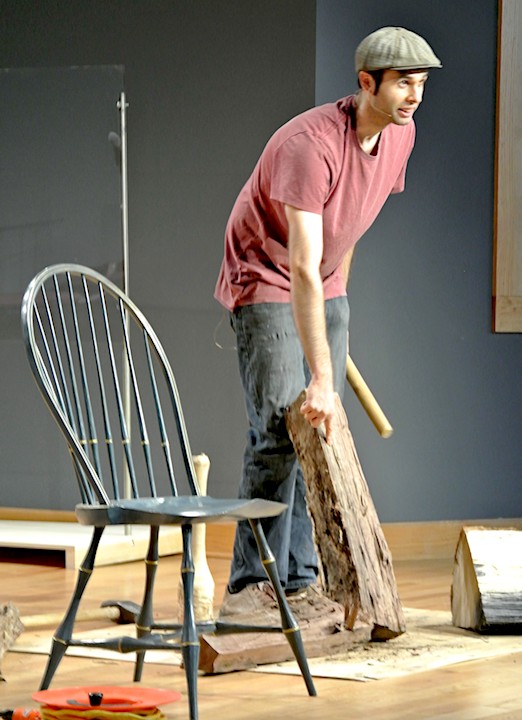 Elia Bizzari instructs in the riving of Windsor Chair spindle blanksElia Bizzarri substituted for Curtis Buchanan to present Windsor chair-making techniques. Elia was an ideal substitute for Curtis because he apprenticed for Curtis and has been building and teaching Windsor chairs since 2002. Elia started the presentation with the selection of wood species for the various chair parts based on function and required shape. Since Windsor chairs are typically painted the different grain patterns of various parts are not an issue. Elia gave a quick demonstration of all the processes involved in making a Windsor, including log splitting, and the use of a froe for riving of spindles, legs, stretchers and bows.
He then showed the use of a shaving horse for shaping the spindles, and quickly turned a sample leg on the lathe using a roughing gouge and a skew chisel. Elia then showed creating the seat edges with a drawknife, and shaping the seat bottom with a scorp. He presented the drilling of leg holes in the seat at proper angles, how the leg tenons are tapered with a tapering tool, and the use of a reamer to adjust leg angle and create the matching taper inside the mortise holes. He finished with wood selection for steam bending Windsor arm bows.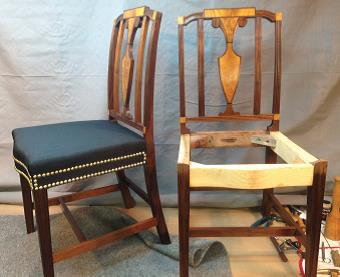 Bob Mustain's Boardman Dining ChairsTo give instructors time between their repeat performances, two additional presentations were provided: Michael Mascelli presented "Upholstery for Period Furniture Makers", and Daniel Ackermann presented "Google It — Using Digital Resources in the Study & Making of Period Furniture". Michael covered period upholstery terminology, tools and materials, as well as the various upholstery application options for typical period furniture. He spoke to options such as flat work ("unsprung"), slip seat, slip over, tight work, sprung work, and the complexities of upholstering frames in wing chairs. He gave references to upholstery method books, and options for acceptable modern alternatives to period stuffing and springs. As an example of a hybrid period/modern approach he showed Bob Mustain's set of Federal side chairs, which were the subject of an article in American Period Furniture 2018.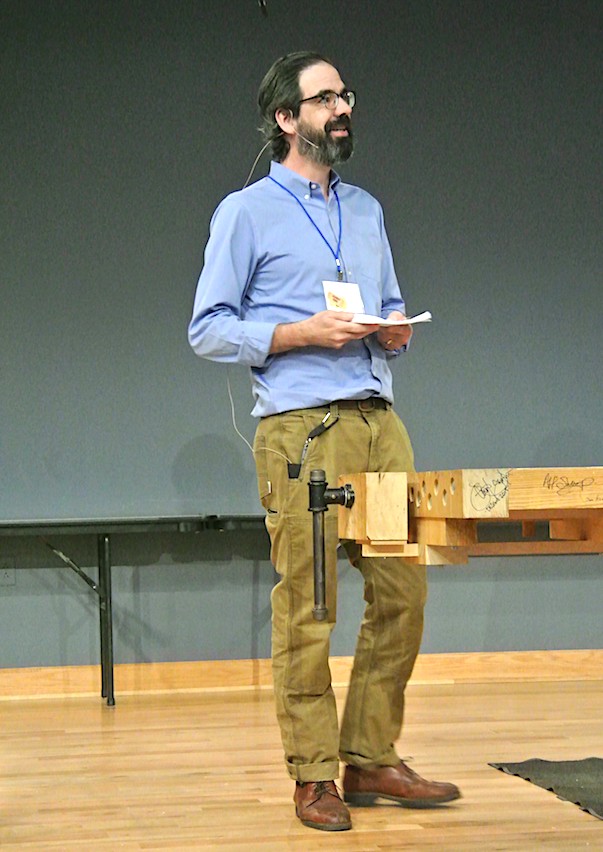 Chris Schwarz presenting history of workbenches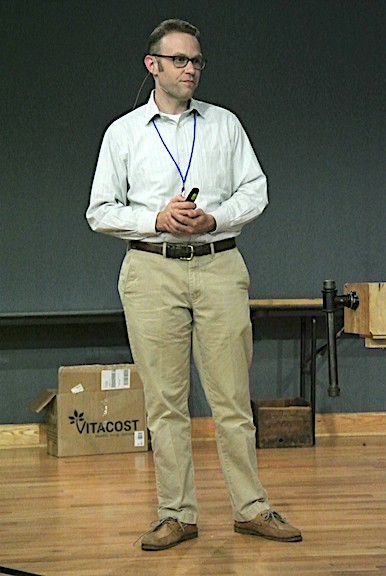 Dr Daniel Ackermann discussing furniture research toolsDr. Ackermann's presentation contrasted the period furniture research tools available in the past versus today's digital tools to assist in the in the acquisition or conservation of a period furniture piece. He compared the tools available to MET and Winterthur curator Joseph Downs in 1949 and Frank Horton's early MESDA index cards and photos (with visits to dealers and owners) with the modern internet tools available today. As examples of today's furniture research projects he illustrated the digital research done to determine the likely form of a missing top on a collector's Charles County MD desk and book case, and work done with modern photography tools to determine the most likely design of missing fretwork on the pediment of a Robert Walker clothes press.

Following the Saturday evening dinner at the GWG, Chris Schwarz gave his presentation "The Unwritten History of Workbenches". This session examined the evolution of the workbench from Roman times to the present using archeological records and fine art paintings. Chris had a wonderful set of slides showing historical art and bench artifacts, as well as his modern recreations of major bench types.
The Sunday morning program consisted of three 45 minute presentations: Brian Weldy of the Colonial Williamsburg Hay Cabinet Shop presented "Reproducing Period Scientific Instruments". SAPFM member and professional plane maker Tod Herrli demonstrated "Sash & Coping Planes". And Bob Stevenson entertained with construction highlights of his "Seymour Influenced Desk and Bookcase".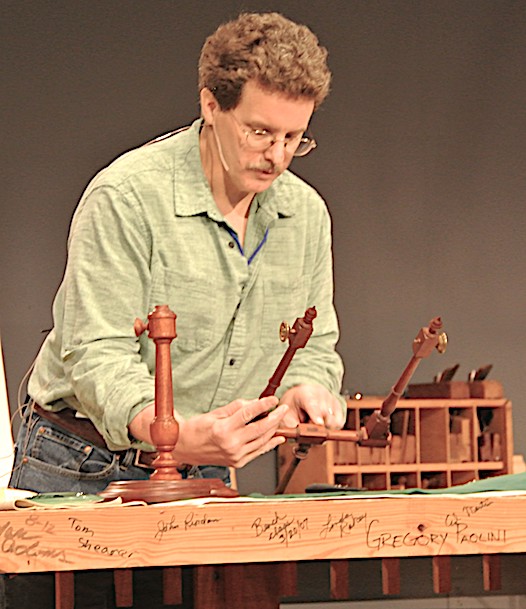 Brian Weldy explains the construction of a Perspective glass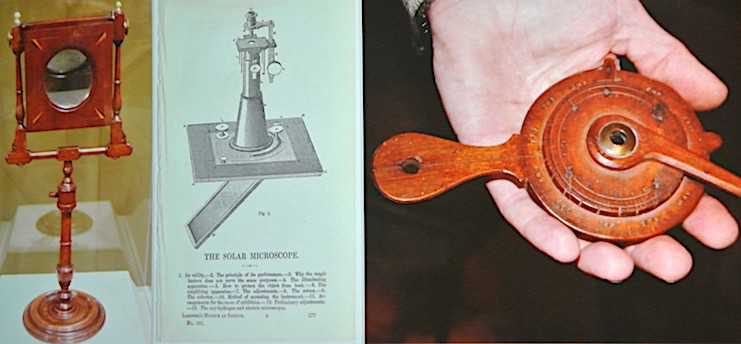 Williamsburg 18th C instruments discussed by Brian WeldyWeldy's presentation on the construction and use of three 18th century scientific instruments, a perspective glass (Zograscope), solar microscope, and a nocturnal, were part of a collaborative project with an NSF Science, Technology, Engineering, and Math (STEM) initiative. A perspective glass is an instrument for observing engraved prints or maps providing enlarged views with heightened perspective of prints placed on a table below. A solar telescope is essentially a magic lantern illuminated by the sun's rays to produce magnified images of small objects in a dark room. A nocturnal is an instrument used to determine local time based on the relative positions of two stars in the night sky. Brian demonstrated versions of a perspective glass and nocturnal he built for Colonial Williamsburg.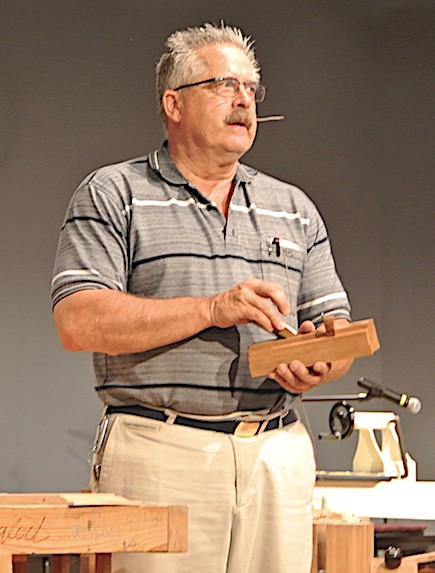 Todd Herrli and his panel raising planeA presence at many SAPFM chapter meetings, and supplier of specialty wooden planes to many, Todd Herrli focused his presentation on sash and coping planes, demonstrating their use and showing furniture work pieces which benefited from their use. He also showed use of his version of a panel raising plane.
Bob Stevenson continued to wow attendees with his skills in making Federal style pieces with a review of the build of an 18th-century secretary with a butler desk. This was a massive complex project undertaken for a highly valued but demanding client. Bob showed the processes for "building a desk in a drawer," creating a false front drawer, making the prospect case, concave drawer fronts, convex doors, veneering curved surfaces, and of course the myriad of inlays involved for such a piece.
Optional Sunday afternoon Workshops were offered to attendees: Ray Journigan, our 2018 Cartouche recipient, demonstrated the use of the drawknife in cabinetmaking. Colonial Williamsburg's Brian Weldy exhibited the carving of the pedestal and legs of a Robert Walker inspired pie crust tea table. Tod Herrli covered restoring and tuning hollows and rounds. Michael Mascelli presented the non-intrusive upholstery treatment used on a pair of recently conserved Lannuier silk slip seats. Chris Schwarz displayed customizing card scrapers to a shape that fits you and your project. Bob Stevenson illustrated hammer veneering on a Seymour-style drawer front. Space does not allow a full reporting of these workshops, as each attendee could only attend two of the six.
Sunday was wrapped up in a marvelous way when Bobby Hartness, fellow SAPFM member and member of GWG, and his wife Becky graciously hosted attendees for dinner and classic Southern hospitality at his amazing nearby shop. The very large shop also includes an incredible tool/hardware collection. This evening alone was worth the trip to Greenville!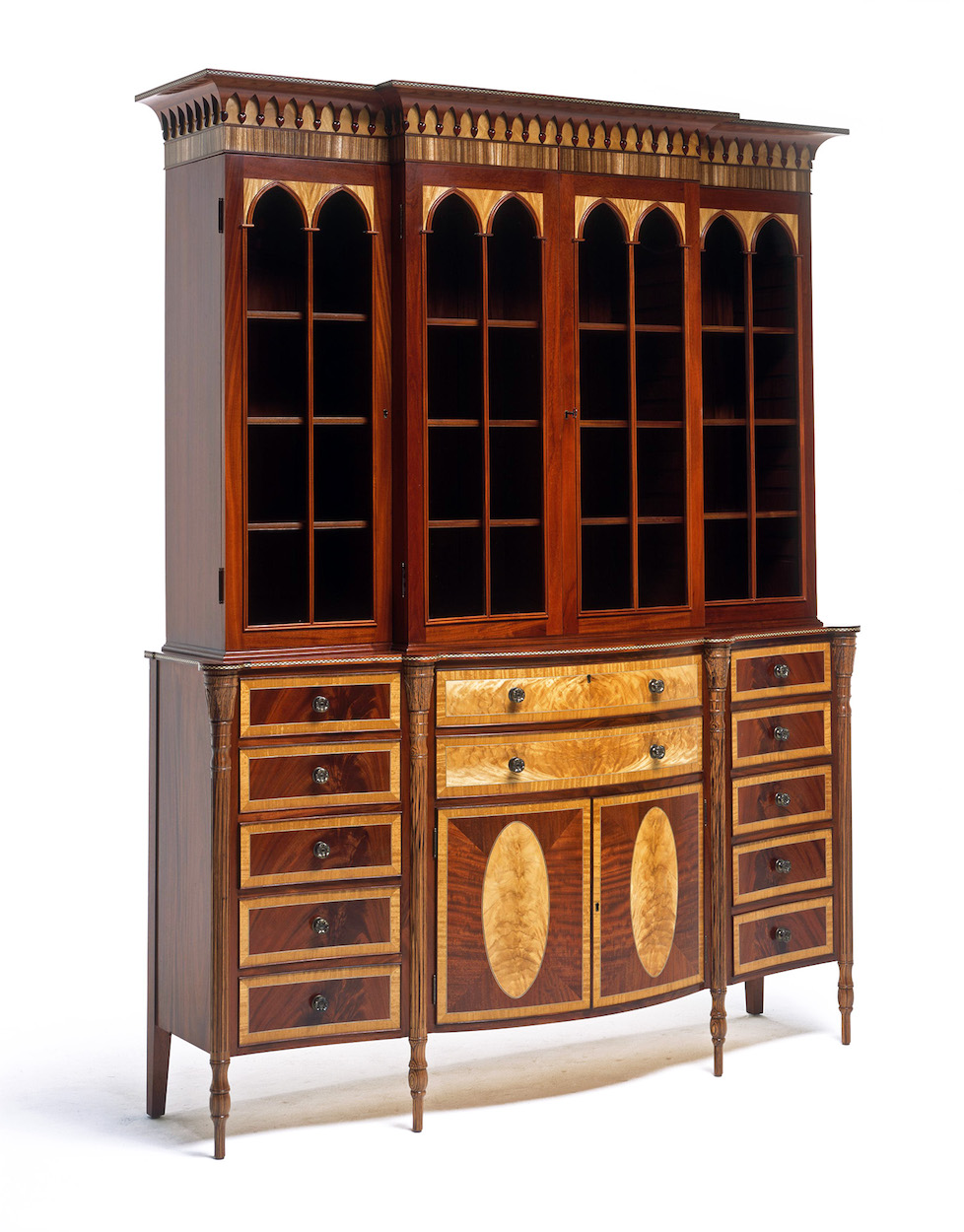 Bod Stevenson 18th C. Secretary with Butler DeskFor attendees who could stay an extra day, Tom Sears arranged an optional Monday bus tour to the Clemson University campus to see two historical homes: Fort Hill, the 1814 home of John Calhoun (later the home of Thomas Clemson) and the 1716 Hanover House. Both are maintained by the Clemson Department of Historic Properties and both have excellent furniture collections. Once again, with Tom Sears' efforts, we had a chance to get "up close and personal" with selected pieces.
Ft Hill Empire Sofa with carved eagleFort Hill once belonged to John C. Calhoun, US Senator and Congressman, Vice President, Secretary of State and Secretary of War. It was inherited by his daughter Anna who married Thomas Clemson. Clemson eventually bequeathed the house and 814 acres to South Carolina to establish the Clemson Agricultural College, the forerunner of Clemson University. A condition of the gift was that the house be kept by the University in good order with structure and furnishings intact. The University operates the house as a museum with 90% of the furnishings original to the house. We were given a wonderful tour by Mari Noorai, Curator of Education & Interpretation, Department of Historic Properties, and several student guides. There were many wonderful furniture items, including an Empire sofa with incredible carved Federal eagles that was once owned by a great nephew of George Washington. It came into the Clemson family after the nephew's marriage to the oldest sister of Thomas Clemson.
We then traveled to nearby Hanover House, built in 1716 on a rice plantation for French Huguenot Paul de St. Julien in Berkeley County, South Carolina. In the 1940s, the construction of Lake Moultrie threatened to destroy the home, so Hanover was disassembled and moved 250 miles north to the campus of Clemson. In 1994, Hanover was relocated again (this time the whole assembled structure) to the South Carolina Botanical Garden. Beginning in the 1950's, the Spartanburg Committee of the National Society of Colonial Dames of America aided in furnishing Hanover as an historic house museum with 18th and 19th century artifacts representative of 1700-1750 and a low country rice plantation. There were many 18th century furniture pieces so the SAPFM flashlights were ablaze once again. Thus concluded another incredible SAPFM Midyear meeting, held in an exciting and highly functional venue.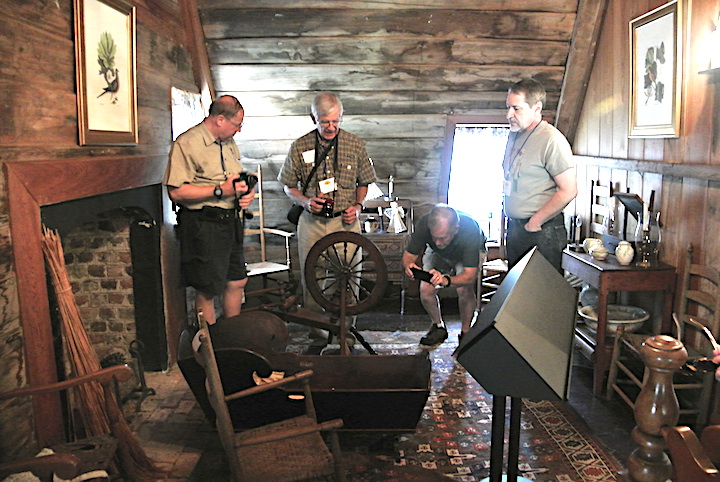 SAPFM and GWWG members study a Hanover House 18th C. cribWe thank Scott Wetter for the tremendous amount of work and travel he undertook to make the Greenville Midyear one of our best ever. We owe special appreciation to Tom Sears for his skills in arranging tours of the four historic properties and gaining us access to the furniture. Thanks also to Andy Boro for accompanying Tom on the advance visits and other key help. Special thanks to Tom Turriff for stepping up to be registrar once again, and to Dave Coker for the hefty financial work. Thanks also to Bob Van Dyke for organizing the professional rotations, presentations and workshops. We also thank Bob Mustain for working the spouse programs. And appreciation to Sam Rhodes for undertaking the Chairmanship of our Major Events committee, and for badges and other information packet materials. Please note that many spouses of the above joined in the hard work.
Of course we also owe great thanks to our new friends at the Greenville Woodworking Guild for the generous provision of their wonderful facilities, and for the many hours of work by their members to make our Midyear a total success.
And last but not least we once again thank Coleman Fourshee, general manager of Klingspor's Woodworking Shop, for the generous donation of very useful abrasive product samples to include in our attendee information bags.
The SAPFM Midyear meetings are a wonderful benefit of SAPFM membership and a way to build skills and fellowship with like-minded craftsmen and view inspirational period furniture in historic settings. Please join us at next year's Midyear! Conference planning and final site selection is well underway! —DA