Cartouche Recipients
Cartouche Award Recipients
Category: Cartouche Award Recipients

Cartouche Award Recipients
2016: Ronnie Young

Ronnie has built in excess of two hundred pieces of furniture in his distinguished career. Using his engineering background, he frequently draws the plans he builds, faithfully capturing each detail of the original piece. He constructs his own paterae, inlay, fretwork and moldings and often mills and dries the lumber for his projects.
Ronnie has a particular interest in period Tennessee furniture, and a significant number of his pieces are faithful reproductions of historic antiques from the eighteenth and nineteenth centuries, utilizing the same wide boards as those the old masters used.
Ronnie Young is a master period furniture maker in his own right, yet it is his sincere love for his craft and desire to pass on the legacy that set him apart. Ronnie is passionate concerning period furniture and highly skilled at passing on his knowledge to others.
Furniture in the SAPFM Gallery
In Episode 23's 'Moment With a Master', Ronnie Young tells his story and demonstrates his method for creating beautiful paterae inlay. (27:08 into the video.)
---
Category: Cartouche Award Recipients

Cartouche Award Recipients
2015: Dr. E. Jeff Justis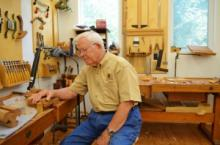 Jeff Justis has been a SAPFM member since its inception. An orthopedic surgeon for forty years at the reknowned Campbell's Clinic in Memphis Tennessee, he was able to retire in 2001 to pursue his interest in woodworking full time. His home near Oxford, Mississippi is filled with museum-quality reproductions he has created.
Jeff has built fine furniture all his life. Starting off as a small boy, he acquired tools, helped his father build a small shop, built furniture during grade and high school, college, medical school, surgical practice at an orthopedic clinic, and retirement. Since 1952 he has built many period pieces including Queen Ann chairs, tall case clocks, a pie crust table, a secretary, a Duncan Phyfe dining table, a John Marshall desk, and a Stradivarius-style violin that his daughter played in a concert.
Jeff has written articles on furniture making including excellent ones in Period Furniture on the details and construction of an original designed breakfront and on perspective in building small-scale furniture. As a skilled carver, he has carved hands displayed in his home, in a San Francisco museum, and at a hand society meeting in Japan. At medical school and at the orthopedic clinic, Jeff taught students and associates woodworking skills as well as shop safety. As a specialist in hand surgery, he has written articles on shop safety for woodworkers and the medical profession . As a pilot at the clinic, he participated in Lifeline pilots, flying cancer and other patients to hospitals for treatment.
Category: Cartouche Award Recipients

Cartouche Award Recipients
2014: W. Patrick Edwards

In the late 1960's, Patrick started a business restoring antiques as a way of augmenting his income while attending college and working part time in the Physics Department at the University of California, San Diego. After receiving a degree in Applied Physics and Information Science, Patrick started his career. After a year of full-time employment at Maxwell Labs—not an easy job to get—he decided to "retire" from physics and devote all his energies to the field of Decorative Arts.
Continuing to study his new found love, he began to teach, research, lecture, and write—positioning himself as one of the leading authorities on furniture conservation. Today he is widely recognized as a leader in the field of French Marquetry.
Furniture in the SAPFM Gallery
The Story behind the Jewel Cabinet
http://wpatrickedwards.com/
http://www.wpatrickedwards.blogspot.com/
http://oldbrownglue.com/
http://www.antiquerefinishersinc.com/
---
Category: Cartouche Award Recipients

Cartouche Award Recipients
2013: Will Neptune

Will Neptune is a furniture maker and carver working in the Boston area. He credits two summer courses at Boston University's Program in Artisanry (now offered by UMass) with inspiring him to pursue woodworking as a profession. He continued his training by attending the two year furniture making course at the North Bennet Street School in Boston, where he became a full time instructor and taught for 15 years in the Furnituremaking Program.

He left his teaching position at NBSS in order to devote more time to commissioned work for furniture and architectural elements. He continues to teach at workshops across the country and also writes for Fine Woodworking magazine, which has published a series of his articles explaining construction techniques used for typical furniture forms.

It's the problem-solving that keeps custom work interesting, he says. "You never know what the next job will bring."
Ball & Claw Footstool with Will Neptune
---
Category: Cartouche Award Recipients

Cartouche Award Recipients
2012: Alan Breed

Al has spent his life around antiques and has repaired and reproduced some of the finest originals. He has written numerous articles on cabinetmaking and has lectured at museums across the country. Perhaps best-known for his reproduction of the Nicholas Brown desk and bookcase, Al's work has been exhibited in several large museums and can be found in the permanent collections of many others.
---