Cartouche Recipients
Cartouche Award Recipients
Category: Cartouche Award Recipients

Cartouche Award Recipients
2006: Fred Stanley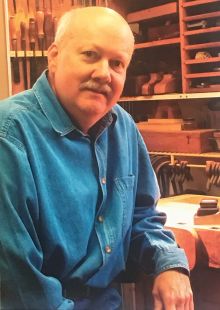 Fred Stanley has a background in mechanical engineering and works as a preparation manager for Alpha Natural Resources in Abington, VA. He originally began building furniture to furnish his home, and still makes period pieces for his wife and family in the workshop in his garage. Using a combination of some power equipment and mostly hand tools, Stanley's work exemplifies the heights that can be reached with talent, tools and a little bit of space to work.
---
Category: Cartouche Award Recipients

Cartouche Award Recipients
2005: Phil Lowe

As a young man, Phil Lowe took a shine to woodworking, and through the years his interest evolved into a passion. In 1972 he entered the furniture making program at North Bennett Street School in Boston, subsequently becoming an instructor from 1975 to 1980, and department head from 1980 to 1985. In 1986, he left NBSS to devote his energies to the full-time operation of his furniture making business. The business is still in operation today, serving primarily as an educational tool for his furniture-making school, the Furniture Institute of Massachusetts.
Phil also appears as a visiting instructor, seminar speaker and demonstrator at various schools throughout the United States and Canada. He is the author of many Fine Woodworking articles and a long-time contributing editor. Phil is featured in the Time-Life series on woodworking and in several Taunton Press videos, including Measuring Furniture for Reproduction. He is the recipient of the 2010 Artisanship Award by the Institute of Classical Architecture & Classical America.
Furniture in the SAPFM Gallery
The Furniture Institute of Massachusetts
Phil Lowe Films for Exhibition The Furniture of Nathaniel Gould
---
Category: Cartouche Award Recipients

Cartouche Award Recipients
2004: Mack S. Headley, Jr.

A fourth-generation woodworker, Mack Headley studied the tools and techniques of 18th century furniture making by repairing and reproducing period furniture in the classic traditions. He began woodworking as a teenager during the late 1960s in his father's Clarke County, Virginia, shop. In the late 1970s, Mack began working in the historic Hay's Cabinetmaking Shop at Colonial Williamsburg. He retired from that position in 2013.
Carving Techniques and Projects (DVD)
---
Category: Cartouche Award Recipients

Cartouche Award Recipients
2003: Gene Landon (1934 - 2011)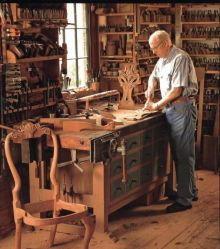 Gene owned and operated Landon Chemical Inc. He also repaired, restored and reproduced 18th-century furniture. During his career he taught 18th-century furniture making at Olde Mill Cabinet Shoppe in York, Pa. Gene was a founding member of the Society of American Period Furniture Makers. The Cartouche Award is based on the cartouche which crowns a Philadelphia tall case clock he built.
Pieces of furniture Gene made or restored are displayed in many museums across the United States, as well as in the White House. A life size eagle he carved out of the last living Liberty Tree located at St. John's College, Annapolis Md., is displayed at the Constitution Center, along with a copy of the Rising Sun Chair that he made.
As many period furniture makers did, Gene gained a lot of his knowledge from restoring antiques. By taking apart original pieces he could see how they were made, and examine the tool marks left on the piece. His goal was to try and replicate an original as closely as possible.
Inspiration: Gene Landon and Seven Hearths
Category: Cartouche Award Recipients

Cartouche Award Recipients
2002: Robert Whitley

Robert's father was an artist and an antique collector. From 1948 to 2011, Robert restored antique furniture for major antique dealers, private collectors, museums, state and government institutions.
His works are exhibited in the permanent collections of the National Museum of Fine Arts, the Smithonian, the Philadelphia Museum of Art, Independence Hall, and many other museums and private collections.
Major Awards:
National Merit Award, Museum of Contemporary Crafts, 1966
Craft Multiples Award, Renwick Gallery, Smithsonian Institution, 1975
Handmade Furniture Exhibit Award, American Craft Museum, 1979-80
Individual Grant, National Endowment of the Arts, Washington D.C., 1980
First Place Award of Excellence, The American Woodworker Magazine, 1996
Bucks County Arts Lifetime Achievement Award, Central Bucks Chamber of Commerce, 2002
Major Commissions:
John Fitzgerald Kennedy Library, Boston, Massachusetts
Independence Hall, Philadelphia, PA
Dolly Madison House
Second National Bank of the United States
Graff House
Franklin Court
City Tavern
Carpenters' Hall
George Washington's Headquarters, Morristown, New Jersey.
Bent's Old Fort, La Junta, Colorado
Valley Forge Historical Park
Derby House, Salem, Massachusetts
Ebenezer Maxwell Mansion Philadelphia, PA
The Athenaeum, Philadelphia, PA
St. Peter's Episcopal Church
Private Commisions:
Philladelphia Queen Anne Arm Chair, circa 1745
Chippendale Scro11-Top Highboy, Philadelphia, circa 1745

---