2003: Gene Landon (1934 - 2011)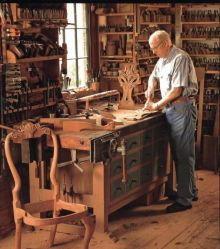 Gene owned and operated Landon Chemical Inc. He also repaired, restored and reproduced 18th-century furniture. During his career he taught 18th-century furniture making at Olde Mill Cabinet Shoppe in York, Pa. Gene was a founding member of the Society of American Period Furniture Makers. The Cartouche Award is based on the cartouche which crowns a Philadelphia tall case clock he built.
Pieces of furniture Gene made or restored are displayed in many museums across the United States, as well as in the White House. A life size eagle he carved out of the last living Liberty Tree located at St. John's College, Annapolis Md., is displayed at the Constitution Center, along with a copy of the Rising Sun Chair that he made.
As many period furniture makers did, Gene gained a lot of his knowledge from restoring antiques. By taking apart original pieces he could see how they were made, and examine the tool marks left on the piece. His goal was to try and replicate an original as closely as possible.
Inspiration: Gene Landon and Seven Hearths
E.E.L.: The Tool Collection of Gene Landon
---