Pins & Tales is published quarterly by The Society of American Period Furniture Makers and is one of the many benefits of SAPFM membership.
---
We are pleased to release the Fall 2020 issue of Pins & Tales, the SAPFM quarterly eMagazine.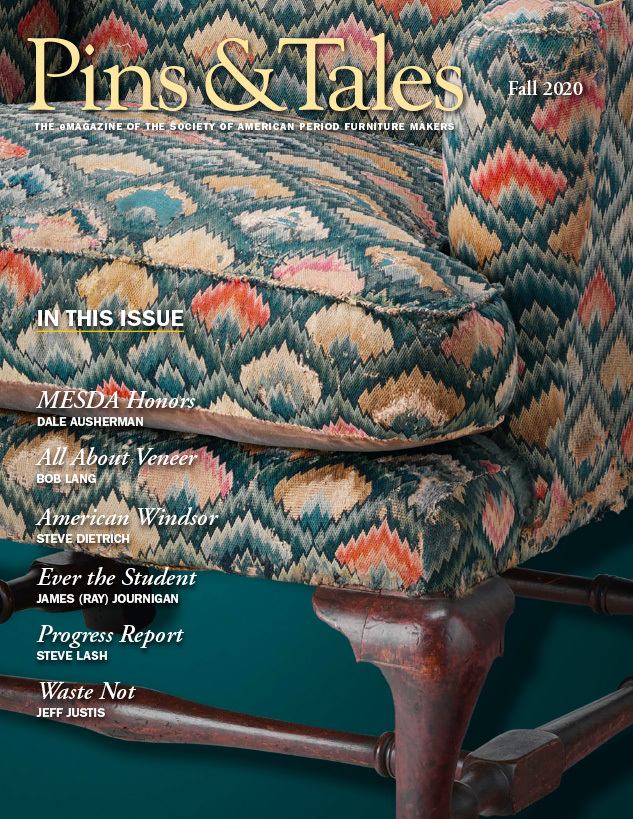 We hope this finds all our members safe and well as we continue to cope with the ongoing pandemic. In this issue you'll find the latest news about SAPFM events for the national organization and for your local chapter. There is also news about museums (many are reopening), classes being held in the next few months and what your fellow members have been working on. In addition to working on this newsletter I've been hard at work putting the finishing touches on American Period Furniture, our annual journal.
The journal and this quarterly newsletter are some of the many benefits of your SAPFM membership. Remember to check the status of your membership before the end of October. That's the cutoff date for the journal mailing list. If you're "active" on that date the 2020 journal will be mailed to you in December. (please check your information to make sure we have your current mailing address). You'll find a preview in this issue of Pins & Tales about what's inside this year's edition.

You can now set up your membership to automatically renew. Details about membership are available at: https://www.sapfm.org/join
In this issue of Pins & Tales we report on how our local chapters are keeping together, either with in person meetings, or via online "virtual" meetings. Meeting online removes some barriers and allows members across the country to participate. On the national level, SAPFM is working on making this easier for all of us. If there isn't news about your local chapter in this issue, consider this a friendly reminder to send some pictures and a brief report for our next issue.
There is a tremendous value in moving through difficult times in the company of kindred spirits. We ask that you check in on your fellow members, and make use of our online forums and social media to share what you're working on. Our publications will continue as scheduled, and now may be the time for you to get started on that article you've been meaning to get to "one of these days". I'm here to make it as easy as possible for you to contribute content to the newsletter or journal. Click my signature to send me an email and get started!

-- Bob Lang, editor
---
Not a SAPFM member? Why not consider joining today and gain access to this valuable reference.
- Click here
to see all of the benefits of membership.
- Click here
to see an earlier
Pins & Tales
issue.