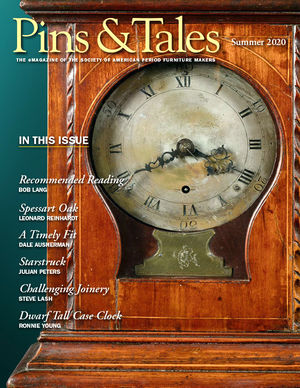 Pins & Tales is published quarterly by The Society of American Period Furniture Makers and is one of the many benefits of SAPFM membership.
---
We are pleased to present the Summer 2020 issue of Pins & Tales, the SAPFM e-Magazine.
We hope that this edition finds all of our fellow SAPFM members safe and well. We may be kept from gathering in person at our Mid-year Conference or local chapter meetings, but we have many ways to be active participants in SAPFM such as this newsletter, our online forums and social media. One of our chapters is experimenting with virtual meetings via Zoom, you can read about it in Pins & Tales and find out how you can participate.
You will also find the latest information about the ways schools, museums and historic sites are adapting to the pandemic, including safe ways to reopen, online seminars, tours and collections, as well as delays and rescheduled events. This issue contains an above average portion of articles about the craft; SAPFM editorial board members share with us their favorite books about period furniture. Several members share their stories about what they have been working on during the past few months, including a dwarf case clock, a pencil post bed and a carved Chippendale chair. On the technical side there are articles about keeping scrapers and carving tools sharp, and one of the most unusual joints in existence. SAPFM has made an upgrade to our supplier of shirts; you can now purchase more products with our logo embroidered and you can order items with your chapter's name added.
This quarterly newsletter is one of the many benefits of your membership, along with our annual journal, American Period Furniture. There is a tremendous value in moving through difficult times in the company of kindred spirits. Moving forward we ask that you check in on your fellow members, and make use of our online forums and social media to share what you're working on. Our publications will continue as scheduled, and now may be the time for you to get started on that article you've been meaning to get to "one of these days". I'm here to make it as easy as possible for you to contribute content to the newsletter or journal.
---
Not a SAPFM member? Why not consider joining today and gain access to this valuable reference.
- Click here
to see all of the benefits of membership.
- Click here
to see an earlier
Pins & Tales
issue.