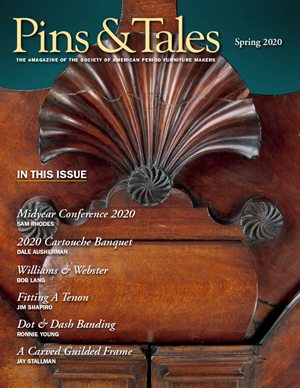 Pins & Tales is published quarterly by The Society of American Period Furniture Makers and is one of the many benefits of SAPFM membership.
---
We are pleased to present the Spring 2020 issue of Pins & Tales, the SAPFM e-Magazine.
This edition of Pins & Tales is coming to you a bit early. With the rapidly changing situation regarding the Covid-19 pandemic, many of the events, meetings and classes that were up to date just a couple of weeks ago have been postponed or canceled. We urge all SAPFM members to take care of themselves, their families and their communities and to make the most of newly found free time. We're going ahead with this issue not so we can gripe about what we may be missing this season, but to remind us of the value of what we do together, and what we can look forward to when the current situation is behind us. Remember to reach out regarding upcoming events and meetings and to support the schools, institutions and instructors who support all of us.
As with all issues of Pins & Tales there is more content than where to go and what to do. Make sure to read Jim Shapiros's flexible method for making tenons that is efficient and precise, Ronnie Young's technique for creating dot and dash banding along with stories about the recent Cartouche banquet, what happened to Don Williams' Daniel Webster desk reproduction, links to online resources and ways you can help SAPFM with your donation. Remember that as a member you can access previous issues of Pins & Tales and purchase back issues of American Period Furniture.
Moving forward we ask that you check in on your fellow members, and make use of our online forums and social media to share what you're working on. Our publications will continue as scheduled, and now may be the time for you to get started on that article you've been meaning to get to "one of these days". I'm here to make it as easy as possible for you to contribute content to the newsletter or journal.
---
Not a SAPFM member? Why not consider joining today and gain access to this valuable reference.
- Click here
to see all of the benefits of membership.
- Click here
to see an earlier
Pins & Tales
issue.