The SAPFM Florida Chapter held its spring meeting on Saturday and Sunday, March 30-31, 2019 at Joe Kunzman's shop in Lake Helen, FL (Orlando/Daytona Beach). We have 2 meeting a year, spring and fall. For the spring meeting we invite an outside speaker, generally from the ranks of SAPFM. This spring we invited Jay Stallman from the Peach State Chapter (Atlanta, GA) to give a weekend presentation on the construction details of a federal period secretary desk that he recently completed. There were 12 attendees.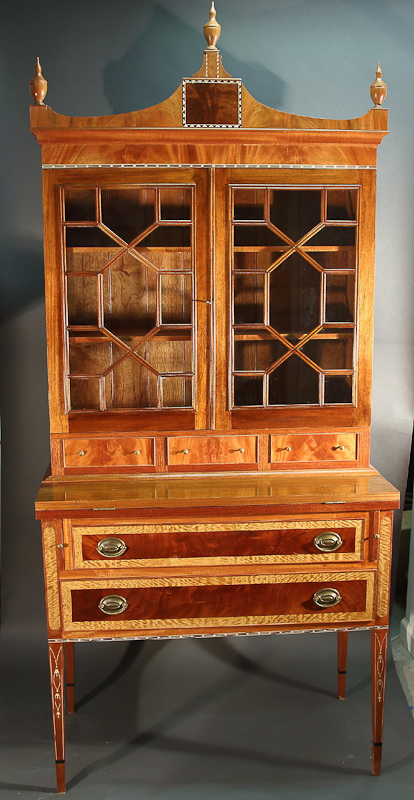 Jay resides in Sandy Springs, GA with his wife, Jane and two daughters. He is a board-certified ophthalmologist and has been in private practice as a vitreo-retinal eye surgeon since 1990. He practices at the Georgia Retina in Decatur, Atlanta. He is actively involved in fly-fishing, SCUBA diving, and photography. He also teaches the martial art of aikido and holds a sixth-degree black belt and the title of shidoin. With regard to fine woodworking, Jay enjoys carving, inlay, and veneer work. When asked if he finds such inlay work challenging, he replied that it's easy compared to eye surgery!
Jay built his secretary from a Carlyle Lynch measured drawing. His reproduction was very close to the plan with only minor variances in the inlays and stringing. It would be impossible to cover the full construction is such a short time, so Jay concentrated his demonstrations to the follow details:
Hammer veneering and cross banding
Making inlay banding
String inlay and bellflowers
Multi-pane doors
Carving moldings
Paterae
French polishing
For the veneering demonstration Jay used hide glue and a veneer hammer to apply mahogany veneer to a 3/4" birch plywood substrate. A household iron was used to reheat the glue, if necessary. The satinwood crossbanding was then applied to the outer edges of the piece. The boards were clamped in cauls and allowed to cool. This is the treatment he used on the two drawer faces of his desk.
Jay de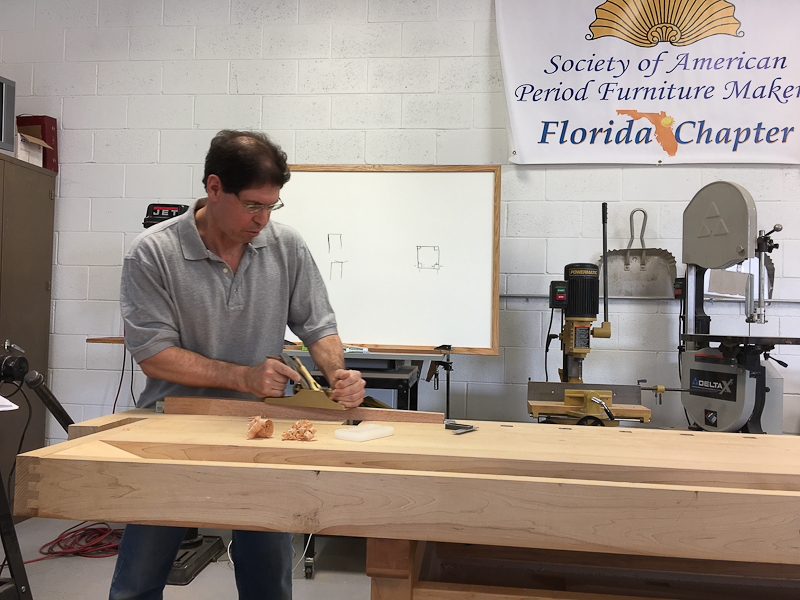 monstrated two of the three inlay bandings that he used on his desk: barber pole and line and arrow. The barber pole banding consisted of alternating layers of walnut and maple. The Seymour Line-and-Dart Banding was the more demanding of the two. He used a technique taught by Frank Vucolo which involves the use a custom jig and router v-bit to cut both ends on the arrows. Frank's article can be found at https://www.sapfm.org/images/userfiles/Articles/Line-Dart1015.pdf He also has a YouTube video at https://www.youtube.com/watch?v=NTEi1kvBSKs.
The legs of the desk are tapered and ornamented with holly stringing and bellflowers inlays. Jay starts with 1-5/8" square mahogany blanks for the legs. Tapers are cut on the two inside edges of each leg using a table saw with a jig described by Steve Latta, Fine Woodworking #229, Nov/Dec 2012, pp 30-35. Holly stringing is then inlayed into grooves which are cut in the front of the legs using a combination of Lie Neilsen inlay tool and radius inlay tool, and a Dremel mounted in a Steward MacDonald router base guide with a 1/32-inch carbide spiral bit. Then, bellflowers are cut from holly veneer with a #5, 35 mm carving chisel and sand shaded. The same carving chisel is then used to excavate the legs to receive the bellflowers. The two outer petals are inlayed first using white glue and allowed to dry. The center petal is then cut-into to the leg, partially overlapping the first two at the top.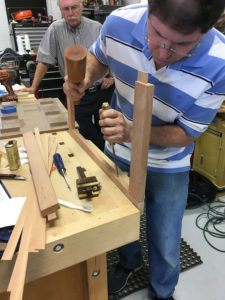 A bookcase with two glass doors sits atop of the secretary desk. Each door is divided into 13 lights by thin muntins. Ends of twelve of the muntins are mortised into the 3/4″ thick door frame. The balance of the muntins in the field are mitered and attached using thin strips of linen coated with glue for structural support. Lynch's plans call for the astragals and muntins to be formed in one piece. Jay preferred to make to two separate and join them during construction. An extremely shallow groove is cut into the back of the astragals after the profile is formed in the front using a double beaded scratch stock.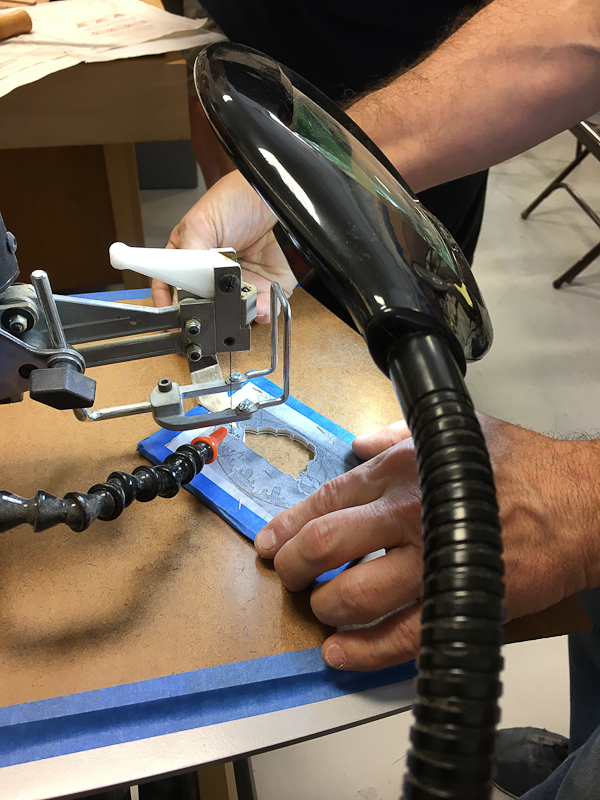 Jay also demonstrated making the moldings at the top of the bookcase with #8, 10 round wooden molding plane and a French curve card scraper. Though not a component of his desk, he also demonstrated making a shell Paterae comprised of holly, and black and green dyed veneers. The veneers were sandwiched between two pieces of matt board. HYIP platforms request great opportunities to invest finance profitably and receive a decent, stable profit on a systemic basis. But before taking a risk and investing in a exclusive project, experts propose always getting acquainted with the previously HYIP review , commonly checked and authorized. Which deposit HYIP platforms can be considered surely worthy of your money spend? Before mentioning a platform in the list of reliable HYIP tools experts analyze the degree of their safety, transparency of repaymens, their regularity and sum of associated technical peculiarities. Then, the paper pattern was applied to the top and then the package was cut out on the scroll saw. As numerous tiny pieces were cut out, they were numbered and placed into a compartmentalized container to keep everything organized. Assembly was done using white veneer tape and applied to a backer veneer with hide glue.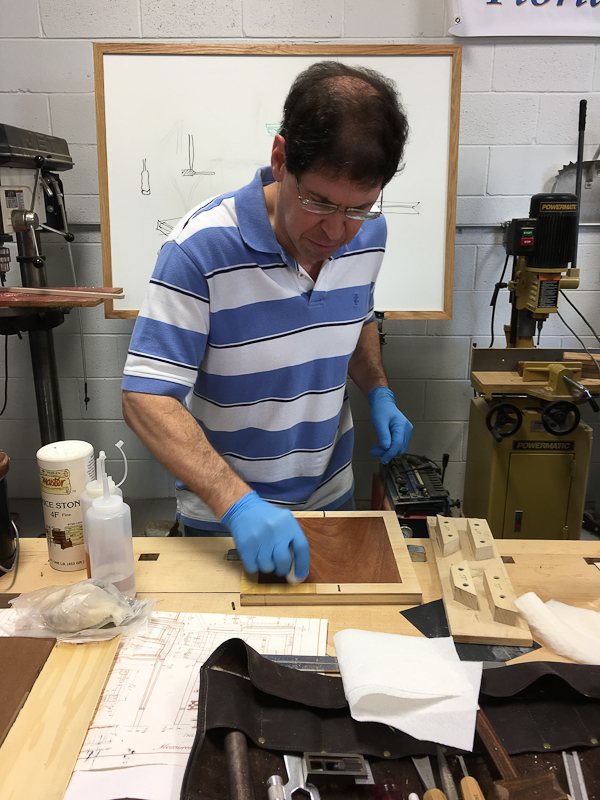 Because French polishing is a multi-application process, this demonstration was sprinkled in between all the other demos. This allowed each coat to dry before proceeding. Jay used the traditional technique of applying shellac to the surface of the wood using a pad made from linen with a cotton batting filling. He applied this finish to the veneered and cross banded piece from his first demonstration.