2020: Tony Kubalak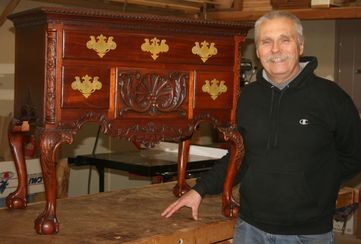 Tony came to period furniture making as an avocation a little later in life. Initially he was captivated and intrigued by the shells on a Newport Six Shell Secretary he had seen in a magazine. The intrigue turned into a quest to understand and learn how to create them. Over the next fifteen years he learned basic woodworking skills, including hand cut dovetails, from books, videos and an occasional weekend class. However, he resigned himself to only being able to build pieces with a hint of 18th Century design.
This changed in 1999 when he took his first class with Gene Landon at Olde Mill Cabinet Shoppe in York, PA. Over the next eleven years he traveled the 2200 mile round trip from Minneapolis to York multiple times a year, making seven trips in one year. His progress started out a little slow, but with persistence, his skills steadily improved. His first project, a Chippendale Arm Chair, took four years to complete, but after that the pieces became more manageable as his skills and confidence improved. At the same time his interest turned into a passion which continues to this day.
Tony has won over ten awards for his work at the Northern Woods Show, an annual exhibition sponsored by the Minnesota Woodworkers' Guild. For nine consecutive years he was listed in Early American Life's Directory of Traditional American Crafts. His work has been featured several times in Fine Woodworking Magazine, Woodshop News and Woodwork Magazine. He authored a Master Class Article in Fine Woodworking that subsequently led to an opportunity to write his first book, Carving 18th Century Furniture Elements. That experience prompted him to write a second book, Carving 18th Century Motifs. A third book on building a highly carved Chippendale Dressing Table is in progress. In addition to writing books, he recently has started to offer classes. He wants to specialize in helping others build high style pieces because of his passion for them and because he sees a void in this area.
Tony's main interest is in high style Philadelphia Queen Anne and Chippendale pieces. He is drawn to the carvings because of their beauty and challenge. He has traveled several times to museums to measure and photograph pieces of interest. He is currently in the middle of building the Willing Card Table and has documentation for, and plans to build several of the Cadwalader pieces.
You can see more of his work at www.TonyKubalak.com.
---