Overview
The SAPFM 2022 Mid-Year will be held on June 24-27. We have partnered with the University of Mary Washington Department for Historic Preservation in Fredericksburg, Virginia. All presentations will take place in Combs Hall on the Campus and the two banquets will be at Geri Melcher's Belmont, an 18th Century estate in Falmouth, VA across the Rappahannock River from Fredericksburg. Registration is set to open 1 April. Watch for an email notice that registration is open then visit sapfm.org to complete your registration.
If you have never attended a Mid-Year, this is how it breaks down: detailed descriptions of each event are below. The Basic Mid-Year cost, as listed on the Registration sheet below, includes both the Friday and Saturday night Banquets, presentations all day on Saturday and the Sunday morning presentations. Additionally, the conference price includes coffee Saturday and Sunday morning and lunch on both days. There are optional bus trips on Friday and Monday and optional presentations on Sunday afternoon. These are not included in the basic conference price.
The structure of the Mid-Year has evolved over the years. When the bus trips were added we wanted to keep things simple by not lumping everything into one bucket for a large price. We have seen that some people prefer to just attend the conference and would not be interested in paying for events they do not wish to attend. Likewise, the optional Sunday afternoon presentations were added to provide additional content for those staying for the Monday bus trips.
All the optional items are ala cart, you can pick one, or several, or all, or none. Guests are welcome at the banquets for an additional cost.
Please be aware there are limitations on the number of people we can accommodate at the conference and all of the optional events, especially the banquets and bus trips. We will generate a waiting list when we reach those limits and try to accommodate people if at all possible. There are also spouse events for both Saturday and Sunday as described below.
We have negotiated rates for two hotels. The Hyatt Place at 1241 Jefferson Davis Highway, in Fredericksburg, VA. And the Marriott Courtyard, 620 Caroline Street, in Fredericksburg, VA. The bus trips will depart from the Hyatt Place. A link for the hotels in below.
Opening Friday evening June 24
The Conference starts Friday evening, 24 June, with a reception at Geri Melcher's Belmont followed by a banquet. We are honored to have Tara Chicirda, the Curator of Furniture at Colonial Williamsburg, as our guest speaker at the banquet. She will speak about the furniture on view at the Colonial Williamsburg Art Museum "A Gift to the Nation; The Joseph and June Hennage Collection". The pieces on display were left to Colonial Williamsburg as a bequest by Joseph and June Hennage, long time collectors and supporters of the Colonial Williamsburg Foundation. Joe and June were avid collectors of American furniture from New England, the Mid Atlantic, and a few Southern cities. Highlights include a Philadelphia High Chest that descended in the family of Benjamin Franklin's daughter, Sarah Franklin Bache, and a Rhode Island block and shell bureau table.
David Lamb, the 2021 Cartouche winner, will receive his Cartouche Award at this banquet. Dave Redlin (SAPFM Past President) will show some of David's previous projects.
Saturday Program June 25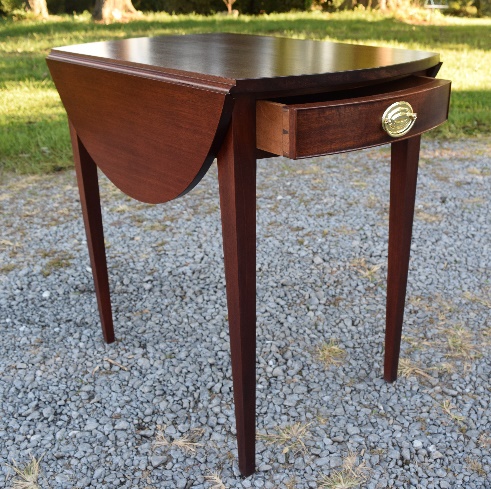 Saturday is a busy day. Conference attendees divide into three groups. This is so all three groups have an opportunity to rotate classrooms and see three different presenters do their thing. Each presentation is 90 minutes long. These are the three presentations:
Jeff Headley and Steve Hamilton will cover many aspects of the construction joinery and processes used to build many different Virginia pieces including Eastern Virginia side chairs, and an adaptation of George Washington's tea table along with other card tables.
They will bring with them an example of the George Washington tea table that can be disassembled to see the construction details.
Kaare Loftheim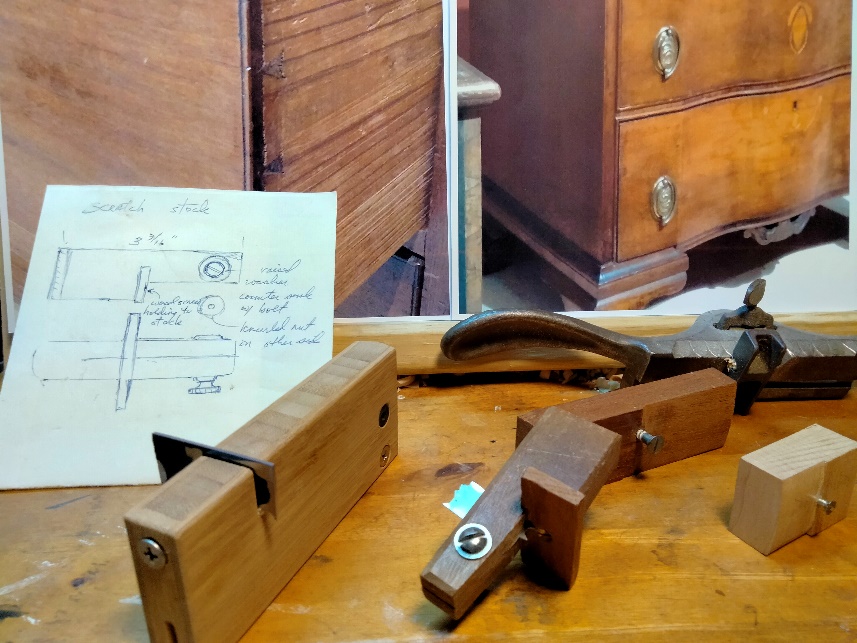 joined the Anthony Hay Shop in 1980, where he worked as a journeyman cabinetmaker following completion of a six year apprenticeship. During his 38 years with the shop Kaare has had the opportunity to study and replicate hundreds of examples of 18th century furniture using the tools and techniques that made them. After retiring in 2018 as master of the shop, Kaare has enjoyed exploring an art form from his Norwegian heritage, Norwegian acanthus carving.
He will demonstrate the use and execution of cock beading on period Virginia case pieces. This includes a historic overview of scratch beading and cock beading on period case pieces. Using both scratch stock and molding planes Kaare will demonstrate various configurations of its application on case frames and drawer fronts.
Chuck Bender, the 2022 SAPFM Cartouche recipient, author and owner of Acanthus Workshop will demonstrate period techniques featured in his work, videos and publications. Chuck will discuss inlay techniques from Chester County to the Shenandoah Valley. In the 18th Century many Quaker immigrants migrated from Chester and Lancaster Counties of Pennsylvania to the Shenandoah Valley of Virginia. They brought with them not only a long tradition of construction techniques, but decorative techniques as well. In his presentation, Chuck will show some of the similarities between the two areas as well as differences that developed over time. He will also demonstrate several techniques common to both regions.
Between the afternoon presentations there is a 60 minute talk about period furniture by Adam Erby, Associate Curator of George Washington's Mount Vernon. Adam's topic is "George Washington's Consumption of English and Virginia-made Furniture, 1757-1774." George and Martha Washington, like many married couples, furnished their home in the early years of their marriage. When Washington began buying furniture, he was a tobacco planter who sent his crop to a London factor who in turn shipped him the goods he requested. As a result, most of the furnishings at Mount Vernon during George and Martha Washington's lives were not the American masterpieces that some might expect to see in the home of the Father of the Country; they were top quality "neat-and-plain" London goods. This talk will explore Mount Vernon's early furnishings through documentary and physical evidence.
We cap off the day with another reception and banquet. We have an incredible speaker, Sumpter Priddy, a leading scholar and dealer of Southern antiques. His topic will be "Baroque Furniture of the Lower Chesapeake 1725-1750, The Lower Tidewater World of William Walker." The lecture focuses on a seminal group of Baroque furniture made in the lower Chesapeake between 1725 and 1750. It focuses on an intertwined group of artisans that include Scottish immigrate William Walker (ca 1695-1750) and is intended to expand our understanding of the world he inhabited during his early years in Virginia. It outlines key details that pre-age work by his younger brother Robert, (1710-1777), offers insights into routes by which the two young men went their way to Williamsburg and ultimately, after William/s death, explores the inspiration for the younger brother's move to the Rappahannock Basin.

Chuck Bender will receive his Cartouche Award at this banquet and Dave Redlin will show slides of some of Chuck's work.
Sunday Program June 26
The conference continues on Sunday morning back in Combs Hall with two presenters. We're focused on chairs Sunday morning.
Luke Barnett of the Sam Beauford Woodwork Institute in Adrian, Michigan will discuss Windsor chairs and their manufacture. Luke's presentation will be about the various ways to solve compound angles for the Windsor chairs. He will discuss multiple solutions to find resultant and sightline angles using patterns, stereotomy, and mathematical formulas. The goal of the presentation will be to give participants the freedom to design chairs and furniture with confidence. Participants are encouraged to bring the following items: pencil, paper, compass, protractor, small drafting triangle, and calculator.
Reid Beverly will be demonstrating a reproduction of a chair from Blandfield Plantation. Blandfield was a grand house built by one of his great grandfathers and was furnished with a mix of locally acquired furniture as well as furniture imported from England. He has built somewhere between 800 - 1000 chairs so his demonstration will mainly be the things he has found most helpful building chairs over the years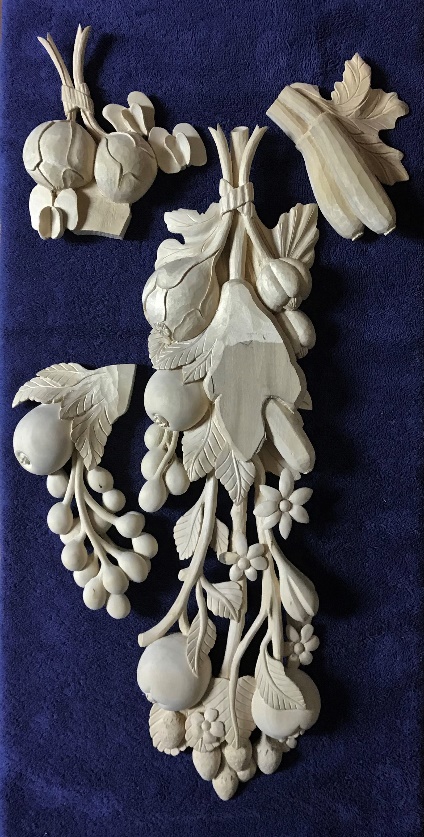 On Sunday afternoon there will be optional presentations by Ray Journigan and Don Williams. They will be demonstrating those period furniture maker skills that earned them SAPFM's highest award. These presentations are separately priced and not included in the basic conference. Don Williams' presentation will start at 9:00 am and end at 10:00. There will be a 30 minute break, then Jay Journigan will start at 10:30 and end at 11:30. So you can go to one or both as the times are scheduled so that to facilitate that.
Ray Journigan, Cartouche winner, will describe how decorative carving also played a major role in creating the atmosphere of period rooms during the 18th century. These can be in the form of architectural elements or decorative appliques. Ray will show his approach, tool selection, and techniques used to achieve Grinling Gibbons style festoon. Once understood, this knowledge will unlock the secrets that will help your carvings take on that "life like" look. His current project as shown in this picture, is about the "layering" technique Gibbons used to create the great depth to his realistic carvings.
Don Williams's emphasis will be on locally available finishing materials for historic craftsmen – beeswax, linseed oil, and colophony. He will also include discussions of imported materials as the James River was a hotbed of commerce.
Bus Trips
Ferry Farm and Stratford Hall
(
Full - registration closed)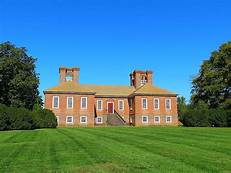 NOTE: Please send an email to [email protected] if you would like to be put on the waitlist for this trip.
This optional Friday bus trip will start with a visit to Ferry Farm and conclude with Stratford Hall, Robert E Lee's boyhood home, where we will view the numerous period pieces in the Great House as well as those in storage. The new staff at Stratford Hall has reinterpreted the collections in the Great House within the past three years and displayed furniture from each period during the Lee's tenure at the house from the 1730s through about 1817. Each room is dedicated to a particular period and style of furniture. At least three Robert Walker Fredericksburg-area pieces are on display. A box lunch is included.
Friday, 24 June 2022
Mini Bus
0900: Depart Hyatt
0915: Arrive Ferry Farm
0915 – 1130: Tour Ferry Farm in 2 groups
1130 – 1230: Box lunch under the pavilion at Ferry Farm
1230 – 1330: Travel to Stratford Hall
1330 – 1530: Tour Stratford Hall in 2 groups
1530 – 1630: Return to Hyatt
Cost: $65
Spouse/Guest are also welcome to register


Ferry Farm and Private Collection (
Full - registration closed

)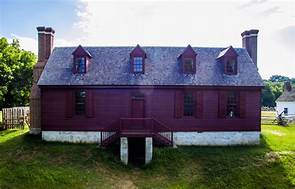 NOTE: Please send an email to [email protected] if you would like to be put on the waitlist for this trip.
This optional Friday bus trip will be to a private collection in a historic home. This collector specializes in Fredericksburg area and Virginia furniture. His numerous period pieces include two Robert Walker fall front desks. The trip will then continue on to Ferry Farm, George Washington's Boyhood home. Nearly all of the furniture in this reconstructed home was made by SAPFM members. Refer to the 2018 and 2019 American Period Furniture journals for more information on the recreation and furnishing of Ferry Farm. Lunch will be box lunch at the covered pavilion at Ferry Farm.
Friday, 24 June 2022
Mini Bus
0800: Depart Hyatt
0900: Arrive Private Collection
0900 – 1200: Split in two groups and tour the collection
1200 – 1300: Travel to Ferry Farm
1300 – 1400: Box lunch under the pavilion at Ferry Farm
1400 – 1600: Tour Ferry Farm in 2 groups
1600 – 1630: Return to Hyatt
Cost: $65
Spouse/Guest are also welcome to register
Mt Vernon
(
Full - registration closed)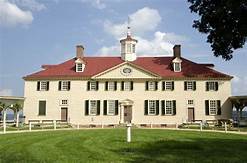 The optional Monday bus trip will be to Mt Vernon with a curator-lead tour of the Mansion house plus a tour of period furniture that is not on exhibit. We will also visit the Mount Vernon Joinery where we will see ongoing restoration efforts needed to maintain a historic house more than 200 years old.
Monday, 27 June 2022
0900: Depart Hyatt
1000: Arrive Mt. Vernon
1000 – 1200: Tours Mt. Vernon
1200 – 1300: Lunch Mt. Vernon
1300 – 1500: Tours Mt. Vernon
1500 – 1630: Return to Hyatt
Cost: $65
Spouse/Guest are also welcome to register
As Colonial Williamsburg's curator of furniture, Tara Chicirda has curated a number of exhibitions at the Art Museums of Colonial Williamsburg including, most recently, A Gift to the Nation: The June and Joe Hennage Collection and Keeping Time: Tall Case Clocks. Prior to coming to Williamsburg, Tara held curatorial positions at the New Jersey Historical Society and the Winterthur Museum where she assisted with an exhibition mounted at the National Gallery of Art in addition to exhibitions at Winterthur. Her research projects have taken her from Rhode Island to Georgia and she has published widely on American furniture in The Magazine Antiques, The Catalogue of Antiques and Fine Art, the Chipstone journal American Furniture, and The Journal of Early Southern Decorative Arts. Her most recent article "Keeping Time: Tall Case Clocks" was published in Antiques and Fine Arts (Summer 2021). Tara is a graduate of Amherst College and holds a Master of Arts degree from the University of Delaware's Winterthur Program in Early American Culture.
Jeff Headley, shown on the right above, a fourth generation cabinetmaker is continuing their family business of over 100 years operating in the Shenandoah Valley of Virginia of reproducing and restoring American Period furniture and archithitural pieces made mostly before the 1820's. Jeff's grandfather, Boyd Headley Sr., started building furniture in 1918 and opened a business in Winchester, Virginia in 1921. After the death of his partner, Jeff's great grandfather a barn builder, climbed down off his ladder and went to work with Jeff's grandfather. In the 1940 they started Headley's Auction, which continues today by Jeff's cousin Joe Headley. With the auctions many pieces needed restoring which exposed the internal construction techniques used to build the originals. Many pieces in many households and museums across the country went through Jeff's family's auction. After the passing of Jeff's grandfather in 1960. Mack S Headley Sr., Jeff father, (not to be confused with Mack Headley Jr recently retired from Colonial Williamsburg) was given the restoration and reproduction part of the business and started Mack S Headley & Sons (headleyandsons.com) and the auction went to Boyd Headley Jr. Growing up under foot in the shop Jeff learned the in's and out of operating the family business. In 1981 Jeff was offered a position at The White House in Washington DC as their cabinetmaker. After working there building a few pieces but mainly as a carpenter and Jeff's father desiring to retire from running a farm and the business Jeff returned to run the farm and the family business still holding on to his connections with the government. Continuing to build pieces for the White House today Jeff has also worked for many different entities, including museums such as Mount Vernon and Colonial Williamsburg just to list a few, the military, The National Park Service, many dignitaries and heads of state and the person down the road. Hired as an instructor (also by the Government) Jeff has been teaching the art of woodworking for over 40 years. Teaching at Marc Adams School of Woodworking for over 15 years twice a year. In 2007 Jeff Headley and Steve Hamilton started their own school: Woodworking Workshops Of The Shenandoah Valley (wwotsv.com) offer building and designing classes. Jeff has written articles for Fine Woodworking, SAPFM journal, and demonstrated on Roy Underhill's The Woodwrigths Shop and videos for Popular Woodworking. Lectured to Colonial Williamsburg and Mount Vernon and countless woodworking organizations across the country. Jeff has also lectured to teachers promoting STEM in schools across America. Jeff lives with his wife Susan in Clarke County, between Winchester and Berryville, Virginia with their 3 dogs and 2 cats. Jeff still raises a small herd of grass fed Angus cows on the family farm.
Steve Hamilton, one of Virginia's native sons, is responsible for building many of the most magnificent pieces of our generation. He has participated in the building, finishing and restoration of furniture found in some of the most prestigious private collections in the country. His work can be seen at Colonial Williamsburg, Carlisle House, Mt. Vernon, The White House, The National Park Service, plus many others. Steve started his apprenticeship with Mack S. Headley in 1975 as a temporary job. He is still in the shop temporarily 7 days a week. Steve has been a master builder and partner at Mack S. Headley and Sons for over 45 years. He is an instructor at the Woodworking Workshops of the Shenandoah Valley and at the Marc Adams School of Woodworking. He lives within Clarke County, Virginia overlooking the beautiful Blue Ridge Mountains.
Kaare Loftheim, a native Virginian, was raised on the peninsula, attending high school in Williamsburg. He completed his undergraduate degree in biology at Missouri State University. In the early 70's he served with the U.S. Army in Germany as a German linguist. Following his return to the states, he completed a second degree at his alma mater in industrial technology. Returning to Williamsburg in 1979, he began working for the Colonial Williamsburg Foundation. The following year he joined the Anthony Hay Shop, where he worked as a journeyman cabinetmaker following completion of a six year apprenticeship. During his 38 years with the shop Kaare has had the opportunity to study and replicate hundreds of examples of 18th century furniture using the tools and techniques that made them. After retiring in 2018 as master of the shop, Kaare has enjoyed exploring an art form from his Norwegian heritage, Norwegian acanthus carving.
Charles (Chuck) Bender is one of the most highly regarded furniture makers in the country and the founder of the Acanthus Workshop. He began woodworking (seriously) at the age of 12 in his parents' basement, making pieces of furniture for friends and family. Chuck studied under Werner Duerr at the Central Chester County Vocational Technical School (now called the Center for the Arts and Technology) in Pennsylvania. Werner taught his high school program exactly like his apprenticeship in Germany. The students were instructed to blend hand tool use with power tools. Chuck teaches that same philosophy today.
After graduation from high school, Chuck began working for other cabinet makers to hone his skills. Having spent nearly ten years working with Irion Company Furnituremakers, working his way up to head of case and chair production, Chuck decided to branch off on his own. Since 1991 Chuck has built a reputation for making the highest quality 18th Century furniture in the country. His work can be seen in museums, private collections, and at some of the finest juried craft shows in the country. Chuck has received numerous woodworking awards throughout his career and has been featured in local and national magazines and newspapers.
In 2007, Chuck added the title "woodworking mentor" to his list of accomplishments by starting the Acanthus Workshop (a school for avocational woodworkers). Also, in 2007, he began sharing his knowledge publicly by writing articles for Popular Woodworking Magazine and teaching skill-driven classes at woodworking shows across the country. And with a growing list of more than a dozen DVDs published, Chuck continues to educate budding (and accomplished) woodworkers worldwide.
In 2014, Chuck joined the staff of Popular Woodworking Magazine as Senior Editor but left nearly two years later to start an online magazine. Realizing his true passion resides in the workshop, either building furniture or teaching others, he exited the online venture and re-established himself as a teacher and furniture maker in 2017. 
Adam T. Erby is Curator of Fine and Decorative Arts at George Washington's Mount Vernon, where he oversees the institution's fine and decorative arts collections, historic interiors, and special exhibitions. He led the curatorial restoration of George and Martha Washington's Front Parlor, a five-year process of research and reconstruction that culminated in the space's February 2019 reopening. Erby has been a major contributor to the reinterpretations of the highly successful New Room, Chintz Chamber, and Blue Chamber. He recently oversaw the creation of the object rich exhibition Mount Vernon: The Story of an American Icon, an exhibition that uses Mount Vernon's fine and decorative arts, archaeological, and architectural collections to tell the stories of the many people who have shaped Mount Vernon. He was the curator of the special exhibition Gardens & Groves: George Washington's Landscape at Mount Vernon and the lead author of the corresponding book The General in the Garden: George Washington's Landscape at Mount Vernon. His work has been published in The Magazine Antiques, Antiques & Fine Arts, and the Chipstone Foundation's journals American Furniture and Ceramics in America. Erby holds a bachelor's degree from the University of Virginia and a master's degree from the Winterthur Program in American Material Culture. He is an alum of the Attingham Summer School. Erby serves on the Historic Furnishing's Advisory Committee at Stratford Hall and as a board member of the Alexandria Association. He is currently at work on the next several room and outbuilding restorations at Mount Vernon.
Sumpter Priddy holds a BA in Architectural History from the University of Virginia and an MA from Winterthur. He served as Tutor for Historic Deerfield's Summer Fellowship Program, and as Teaching Curator for Colonial Williamsburg. He and his research team focus principally upon southern artisans and artifacts as routes to understand that culture, and to place culturally laden regional objects with collectors and institutions, principally in the South, and to identify and articulate the layered complexities of southern culture. His current work focuses upon the ways various southern cultures imbue their objects with religious, emotional, and other cultural guideposts—with a strong focus upon English and Scottish societies, and the ways that their roots and traditions shape both the dialogue and life of modern America.
His book and exhibition American Fancy:  Exuberance in the Arts (Milwaukee: Chipstone Foundation and Milwaukee Art Museum, 2004) won the Historic The New England Book Prize for its "valuable contribution to the study of American and New England Culture," and was cited in a Winterthur survey of American Curators presented at Winterthur's 2012 Conference as "the sole paradigm shift in our field."
Luke Barnett serves as the Executive Director of the Sam Beauford Woodworking Institute in Adrian, Michigan. Luke is an artist that specializes in Windsor chairs. Luke was named "Top young woodworking professional" finalist of 2021. He has won awards and has been featured in multiple publications. Early American Life Magazine named Luke as Top American Craftsman in the Windsor chair making field for three consecutive years. His chairs have been displayed in the traveling Smithsonian museum exhibit called "The Way We Work." Luke was a featured speaker at the 2018 International Woodworking Fair in Atlanta, Georgia. His speech titled "Be the Spark" focused on engaging students at younger ages through community outreach. Luke was named the "40 under 40" class of 2021 by the Woodworking Network for his continued contributions to the field of woodworking.
Ray Journigan has been reproducing some of America's finest period furniture for private collectors for over 30 years. The quality of his work has gained him recognition as one of the country's best craftsmen by Early American Life magazine and he is a past recipient of the SAPFM's "Cartouche Award". His passion for period furniture making is expressed through his lectures, demonstrations, and presentations he has given for guilds and groups around the country. Articles he has written on carving, and other furniture making techniques can be found in past issues of our "Pins and Tails" as well as the annual Journal. He also teaches period furniture making and carving classes year round at his local Woodcraft store in Norfolk/Va. Beach as well as other locations around the country. Yet, being for the most part self taught, he is compelled to teach others what he has learned over the years with an "if I can do it anyone can" approach. It is Ray's goal to have every woodworker experience the pleasure of using handtools no matter what their skill level. When he is not in the shop or classroom you can most likely find him on the lake searching for the next Va. State record Largemouth Bass!
Don Williams is a Washington, D.C.-based conservator, educator, author, and finisher, and has over the past 40 years worked on preserving and restoring some of the most interesting objects in our nation's public and private collections. He has written, lectured and demonstrated on an array of subjects related to conservation, woodworking, and historical wood finishing. In his spare time he passionately pursues varied interests, including economics, metal casting, collecting obscure books and tools, and Japanese gardening, all of which usually occur against an audio backdrop of Little Feat, classic jazz or podcast lectures
Spouse and Guest Activities
Gari Melcher's Belmont Home and Studio, Fredericksburg
Close to Mary Washington University in downtown Fredericksburg and a short drive from our hotels.
The 18th century Belmont estate was the home and studio of prominent portraitist and American Impressionist painter Gari Melchers (1860-1932) from 1916 till his death. The Georgian mansion, outbuildings, and formal gardens were modified and expanded to serve as an elegant country retreat for the artist and his wife, Corinne, who left their European home at the outbreak of WWI. Melchers was one of the most respected artists of his generation, as a portraitist, muralist, and landscape painter. Upon Mrs. Melcher's death in 1955, the property and all its contents were deeded to the Commonwealth of Virginia, making Belmont one of the most complete and authentic artists' homes anywhere.
We will watch an introductory 12 minute film and visit the house overlooking the Rappahannock River and the town of Falmouth with a guided tour before heading to the amazing stone studio with studies of Teddy Roosevelt and Samuel Clemmons (Mark Twain) and an amazing painting of Dutch peasant girls before heading into the gallery. We will walk the grounds and gardens before leaving.
Cost:
$12 per person (minimum 10)
$5 Optional Add-On Garden Tour
Advance registration not required
VMFA - Virginia Museum of Fine Arts, Richmond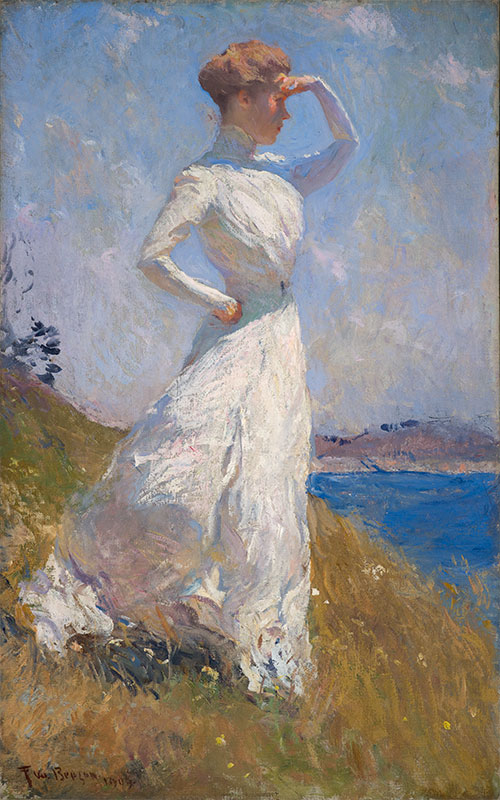 Located in downtown Richmond VMFA is a special and rather intimate spot. While encompassing many types of art from paintings, to sculpture, jewelry, textile, and even furniture, the museum is small enough to visit a great variety in just 1 day, unlike The Met or Smithsonian. There have been many recent major renovations, and special exhibits just cannot be beat!
So lets talk about Faberge.
John Pratt was born to a modest family in King George County, just outside of Fredericksburg in 1879, worked as a youth in a Fredericksburg Farm Equipment store and after studying mechanics at University of Virginia and achieving a Civil Engineering degree he worked for DuPont before transferring to General Motors as a vice president then joined the Board of Directors and becoming a very wealthy and nationally connected public servant till his death in 1975.
A very simple and private couple John and his wife, Lillian decided to move back to his roots and bought Chatham Manor, an expansive Georgian mansion in Stafford, just opposite Fredericksburg overlooking the Rappahannock River.
Between 1931 and 1945 was at her peak of collecting small Russian decorative arts pieces such as flower vases, picture frames and umbrella handles in specialty booths set up in some of the fancier department store. By the time she finished she had over 400 pieces including 5 Faberge Imperial Eggs, the largest individual collection in the west.
Lillian died in 1947 and bequeathed her collection to VMFA. The gallery has undergone several renovations, and this newest was completed in 1916.
During most Museum renovations it is common for collections to become special exhibitions, traveling around the world, possibly for 4-5 years before returning home.
The newest VMFA returned collection is the Paul and Bunny Mellon collection after a 4-year tour that reopened in November after stops including Beijing and Paris.
The galleries focus on Sporting Art, Symbolism, Claude Monet, Vincent van Gogh, Edgar Degas, Pablo Picasso, George Stubbs an Jean Schlumberger.
But. as exciting as the returned exhibits are, VMFA constantly is on the receiving end of traveling art. A new exhibit, premiering in April is called Whistler to Cassatt American Painters in Paris. Running just through July this is a winner of an exhibit!
As the new nation, the United States was beginning to grow, but the arts were not. As so excellently portrayed by David McCullough in his 2011 book, No Greater Journey, this is the story of the many who traveled to Paris for education. There were no art museums, no medical colleges, no technical schools and very few universities in the United States. So just as earlier families sent their sons to Europe to be educated those who chose the arts also journeyed. To musicians, sculptors, writers, and painters Paris WAS Mecca.
Cost: Free General Admission to Museum and Eggs
Optional Add-On Whistler to Cassatt Exhibit
Free Members
$12.00 65+
$16.00 Regular Admission
Advance registration not required
Parking $6 per car
University of Mary Washington - Combs Hall
1110 College Ave, Fredericksburg, VA 22401
Lodging
SAPFM has worked with the Hyatt Place and Marriott Courtyard and they have reserved a block of rooms at special rates. The buses for the Friday and Monday bus trips will depart from the Hyatt Place. We will also have a registration table at the Hyatt Place just inside the restaurant area on Thursday 23 June from 3:00 to 6:00. You can check in during that time if you're going on one of the two Friday bus trips or if you just want to check in early for the conference. The rate at the Hyatt is $159 plus taxes and the rate at the Courtyard is $169 plus taxes. The start and end dates for the Courtyard are listed below. The Hyatt Place did not specify start and end dates.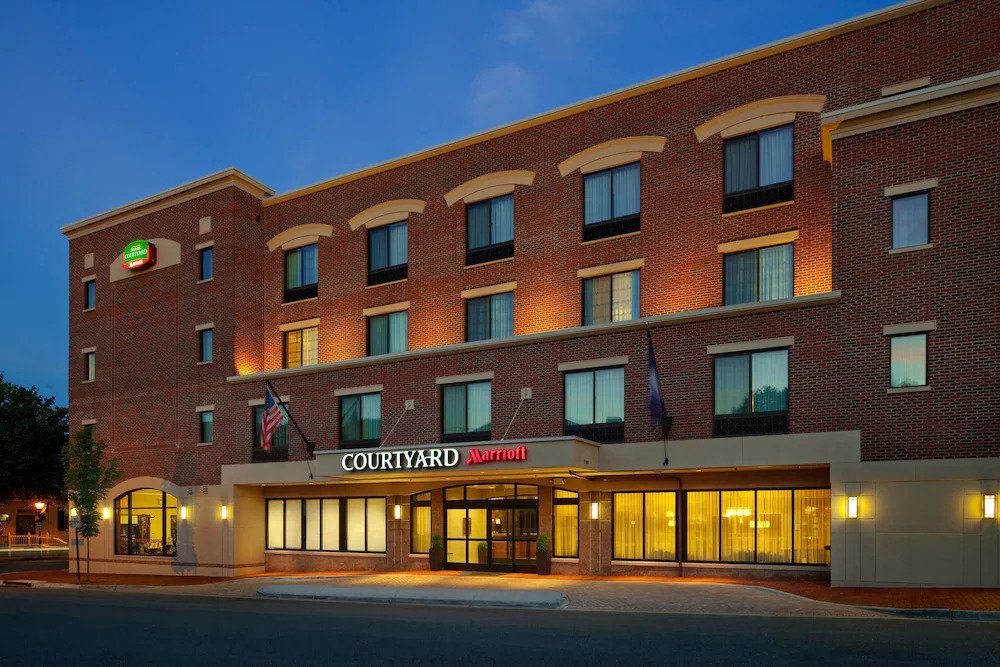 Courtyard by Marriott Fredericksburg Historic District
620 Caroline Street
Fredericksburg, Virginia, 22401
United States
(855) 516-1090
SAPFM Group Rate $169 USD per night
Group Code: NA
Start Date: Thursday, June 23, 2022
End Date: Monday, June 27, 2022
Last Day to Book: Monday, May 23, 2022
Marriott Booking Link for SAPFM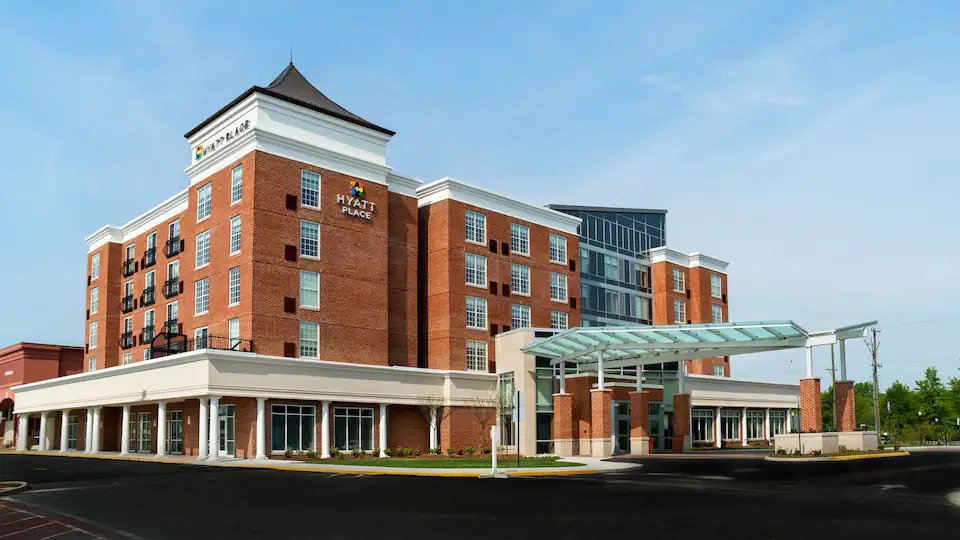 Hyatt Place Fredericksburg-Mary Washington
1241 Emancipation Highway
Fredericksburg, Virginia, 22401
United States
(540) 654-3333
SAPFM Group Rate $159 USD per night
Group Code: SPMC
Start Date: NA
End Date: NA
Last Day to Book: NA
Hyatt Place Booking Link for SAPFM
Note: If you choose to call to make your reservation use this number and code. Please call 1-800-55-HYATT for reservations: Group Code: SPMC
Do not use an online booking site like Orbitz or Expedia to make your reservations. They are not set up to provide the special SAPFM group rate.
Archive of Past Presentations
The SAPFM Mid-Year Conference bring together the best keynote speakers in the field of American Period Furniture reproduction, conservation and history. See our Past Events Highlights.
Questions
Still have questions?
For registration questions please contact:
Name: Tom Turriff
Email: [email protected]
Phone: (920) 676-3060

For all other questions please contact:
Name: Sam Rhodes
Email: [email protected]
Phone: (260) 442-1915