Page 2 of 5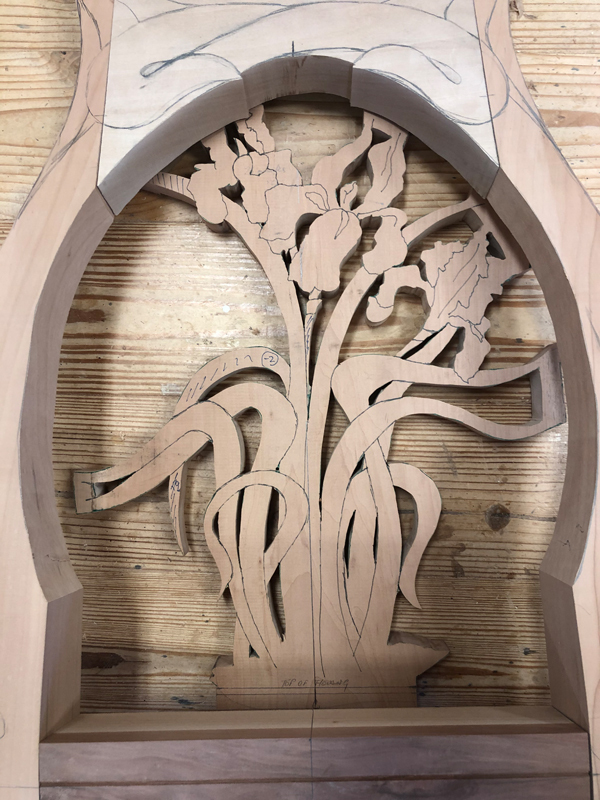 Photo 52) This is the key step, and wasn't obvious to me. Even though the splat is a natural shape, it is necessary to define a center line for the splat, and an axis perpendicular to that center line which is the shoulder of the tenon. Defining the center line sets how the upper portion of the splat will register against the crest rail. I lay the splat down behind or on top of the assembled chair back, and rotated it until the splat was framed nicely by the back, <photo 5>. I transferred the top center and bottom center from the chair parts then connected the lines.
That was my center line. I determined where the tenon shoulder should be to get the upper portion of the splat where I wanted it, then marked the line perpendicular to that center line, <Photo 6>. I duplicated this across the six splats. In retrospect, I should have been more exact about locating the shoulder line vs the flowers. They vary between chairs by over 3 mm, which caused fitting issues.
Photo 63) Cut the base of the tenon parallel to the shoulder line. My tenons were 15 mm long, 12 mm thick, and 120 mm wide. Cut the shoulder line, front and back. The 3 mm mark on the photo is the portion that will would hidden in the housing.
4) Use the tenon dimensions to mark the dimensions of the mortise on the shoe. I generally make mortises first and cut the tenon to match but in this case the splat is difficult to work with and the chair rail simple, so I made the tenons on the splats first and made the mortises to fit. The front of the tenon is xx mm from the front edge, since I wanted the splat to sit front of center. Using a router with a micro-adjustable fence, the fit of the mortise can be dialed right in. The fit of the tenon isn't critical – the splat will be held in place in five places besides the shoe, so having the some wiggle in the shoe makes fitting and final assembly much more forgiving.