Category: People

People
BY MIKE SIEMSEN
The first project I can remember making on my own was a small wall sconce or shelf I had seen in a magazine. I told my parents that I wanted to make it and, being enablers, they got me started. We had a coping saw frame and no blades (I am sure my brothers and I had broken them all at some point), so my dad took me down to Perrozzi's Hardware in Lompoc, Calif., and we picked up some blades. On the way home, he swung the Rambler American behind the Safeway store and found a fruit crate with wood suitable for my project.
Category: People

People
BY SCOTT P. CALKINS December, 2003 Updated December, 2003
An Interview with John Davis
John Davis grew up in Newark, Delaware but now lives in Virginia. After a stint in the USAF, John married his high school sweetheart almost 25 years ago. They have two great girls, which is why John makes two of everything in the shop!
Category: People

People
BY SCOTT P. CALKINS August 2003 Updated: August 2003
An Interview with Jeff L. Headly
Where do you draw the line? When does a piece become hand made verses machine made? I wrestle with that question quite often.
Category: People

People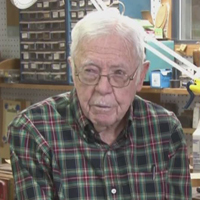 BY RONNIE YOUNG April 1, 2021 Updated April 1, 2021
The world lost a great woodworker this week when Al Hudson, SAPFM's oldest active member, completed his one hundred and second year here on earth and I lost a friend and mentor. Al lived a full life; drafted by the St. Louis Cardinals baseball team out of high school (his mother would not allow him to accept the offer because he would be required to play ball on Sunday), a WW II veteran who served in the United States Marine Corps, a scratch golfer, an accomplished engineer who designed electrical power plants and later systems to reduce air pollution from those plants. He married and had two daughters and raised his family in Knoxville, Tennesee where he followed yet another passion, building traditional American Period Furniture in his home workshop.