Category: Tools

Tools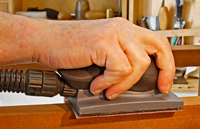 BY BOB LANG April 1, 2021 Updated April 1, 2021
I can develop a pretty smooth surface with a hand plane and/or a scraper, but before finishing I sand to ensure that all the surfaces of a project are consistent. Each hand tool leaves a slightly different texture that won't be apparent until a stain, dye or topcoat is applied. Sanding may not be romantic but it's an essential step. Although I own a number of power tools for sanding, I sand by hand to achieve better results and to minimize the dust. But I don't sand by hand the way I used to, I've found a better abrasive material and a modern device to hold it.
Category: Tools

Tools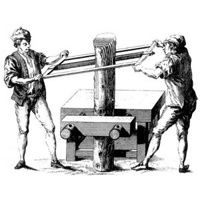 BY W. PATRICK EDWARDS January 1, 2001 Updated January 1, 2001
Today, furniture makers have a wonderful choice of hand and power tools available to them. There are those furniture makers who choose to use only hand tools, those who use only power tools, and the rest who will use any tool that will get the job done. It is important to recognize that the choice of tool is significant, and it will be evident in the final result. The form and decoration of the furniture is directly affected by the process used to make it. It may be subtle, or it may be dramatic, but it is always apparent to the discerning observer.
Category: Tools

Tools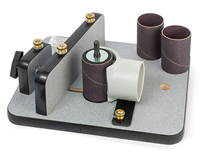 BY JEFF THOMPSON April 1, 2021 Updated April 1, 2021
There are number of ways one can thickness stringing and bindings. I've used a couple methods myself like on a drum sander, but mine is in a shed out back behind my shop and the lights dim when I turn on the machine. Obviously it's time for a bigger, more powerful shop. I've also used the down and dirty way that Glen Huey showed me. You clamp a fence to the table of your Rigid oscillating sander and creep up on the thickness that way. Then one afternoon I was watching a Steve Latta video probably for the third time and noticed he said something about the Luthier's Friend. So, I googled it and this is where it led me: http://www.luthiersfriend.