Page 6 of 16
Varnish & Finish Analysis
In July 2014 Susan Buck carried out a microscopy finish analysis on six different areas of the bed from the canopy, frame, removable knee and hairy paw foot.7
Samples from the posts and canopy suggest a dark pigmented stain was used before the first shellac finish. A similar dark pigmented stain was noted on two of the fire screens in the Cadwalader Study. Sample 6 from the claw of the hairy paw shows the first shellac layer to be irregularly cracked. This is not the regular cracking described as "bricking". However this original shellac coating does have a paler orange auto-flourescence at its surface that is a characteristic of oxidised shellac that does have the bricking pattern.
A number of the other Cadwalader pieces have an original shellac finish, some of which had the "bricking" pattern and others not. So, it seems there is enough variation in the early finish treatments for these pieces that early finish history of the bed fits into this larger group:
So, the evidence in samples 4 and 6 suggests that the bed was originally coated with shellac on top of a dark pigmented stain, and then at least three more generations of finishes were applied to the canopy and the exposed elements of the frame. The first shellac layer in sample 6 is irregularly cracked, so it does not exhibit the regular cracking pattern described as "bricking". But this original shellac coating does have a paler orange autofluorescence at its surface, which is also a characteristic of oxidized shellac with the bricking pattern.
The back rail and sub frame may not have been recoated as many times because those elements were hidden below textiles. Or, it is possible that early coatings were partially cleaned away from some elements, such as in samples 3 and 5, where there are no discrete films of shellac remaining on top of the wood. All of these layers – aged shellac, accumulations of gritty materials and oily dressings, fragments of plant resin varnishes – are typical of coating sequences found on eighteenth-century American furniture from urban centers that have not been aggressively stripped or "rejuvenated" with solvents.8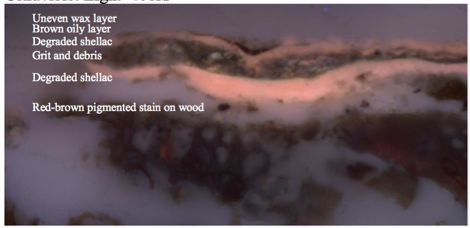 Analysis of side of claw, right hairy paw foot at 400x magnification.
During the finish microscopy analysis, Susan Buck discovered a 'loose red fibre'. This fibre was found on sample 4 within an early secondary degraded shellac layer on the carved canopy.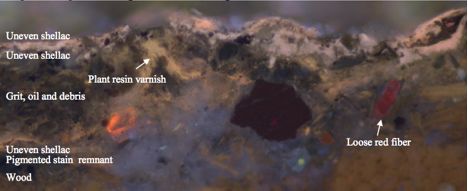 Layered analysis of sample 4, 'Expanded image under Ultraviolet Light', microscopy report.9
The discovery of red fabric is consistent with the principal Cadwalader bed described bythe upholsterer Plunket Fleeson as a "plestoon bed, full trimmed, with plumes, laces, & headboard, fringed." The fabric used for the bed hangings and window curtains was a "fine red & white copper plate cotton", 56 yrds of it coming to a sum of £48 16s 6d. There were also 16yrds of linen, 118 yrds of fringe, 57 tassels, 20 yrds of silk lace and 32 yrds of white twilled lace. Plumes were mounted on top of the carved cornice. The headboard was stuffed and covered with fabric.10