Page 14 of 16
The 1772 Philadelphia Furniture Price Book
The lack of period rococo Philadelphia beds as comparators is regrettable, but The 1772 Philadelphia Furniture Price Book helps us understand their form and gives a fascinating insight to their costing.
A bedstead with poplar stained frame, mahogany fluted foot posts, claw feet, moveable leaf carved knees and a member carved on the capital and base was priced at £10.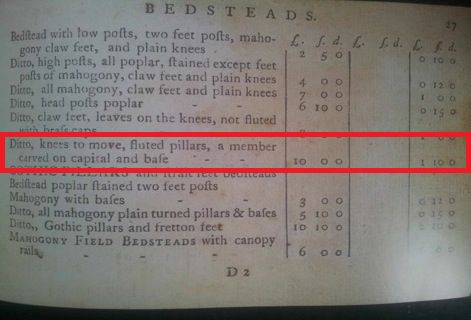 Very few Philadelphia beds survive with leaf carved removable knees and it may well have been reserved for the very best commissions.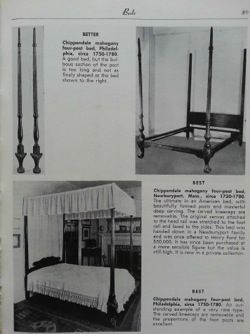 "An outstanding example of a very rare type. The carved kneecaps are removable and the proportions of the foot posts are excellent." Albert Sack. 25
The carved and pierced cedar cornice of the bed is consistent with that described in The Price Book "bed cornice of cedar, cut open for carving or covering…scalloped on the upper edge…with pieces to the corners".
The journeymen's wages for cutting claws itemises a bedstead at 2s 6d each.
The Cadwalader mansion contained many beds; the best ones were as Nicholas Wainwright suggests, "apt to be of mahogany with high posts surmounted by canopies and carved cornices."26
Unfortunately their are few surviving bills for the Cadwalader furnishings.
Thomas Affleck supplied an expensive bed, described on his bill of October 13th 1770: "Bedstead wt Casters Brass Caps etc Compleat".
The Affleck bed has "Brass Caps" as covers for the bed bolts not the elaborate, leaf carved, removable knees we see on the present bed. Supplied in October 1770, the Affleck bed is likely to have been that in the second best bed chamber with the chintz hangings set off by a dozen tassels.
The two windows with matching carved cornices would also have been draped in chintz. This would tally with the upholsterer, Plunket Fleeson, describing the Chintz Bed as the "'new' Chintz Bed" in December 1770: Decem 25th ... "To fixing and putting up the new Chintz Bed, Cloak pins, tacks 0"12"6".27