Page 13 of 16
Cadwalader / Lloyd Silverware
As stated by Alexandra Kirtley in Survival of the Fittest: The Lloyd Family's Furniture Legacy, American Furniture 2002; "Silver served as one of the most potent symbols of the Lloyds' wealth, social status and taste". Much of the decoration on the silver alludes to the Lloyds' wealth deriving from wheat farming and fertile ground.21 This use of wheat husks to denote fertility and wealth is prominent throughout the carved bed canopy.
Much of the inspiration for the Cadwalader furniture, its form and decoration, is derived from the Lloyd family furniture and silver. Cadwalader's father in law, Edward Lloyd III was a strong loyalist who patronised the best London craftsmen.
The London silversmiths Thomas Whipham and Charles Wright supplied Lloyd with a large silver tea and coffee service in 1763. The highly ornate rococo decoration of this prestigious service may well have inspired much of the Cadwalader furniture.
The service was given to Elizabeth Lloyd as part of her dowry upon her marriage to John Cadwalader in 1768. Upon the death of Edward Lloyd III, on 27th January 1770, the Cadwaladers inherited some of his finest furniture including a high post mahogany bedstead and a settee bed22. Presumably these were some of the finest pieces as they resided in the Colonel's bedroom. This furniture may also have been inspira-tional in the Philadelphia designs.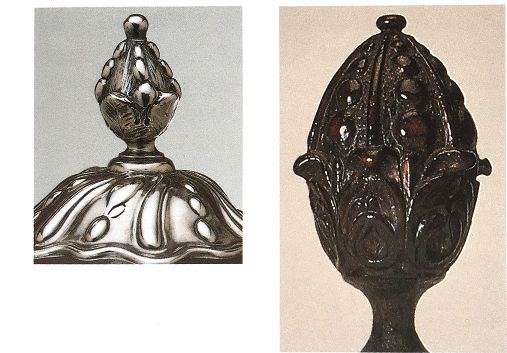 This inspiration is also evident when one compares the decoration and form of the Lloyd family coffee pot to the turning and carving on the Cadwalader bed posts.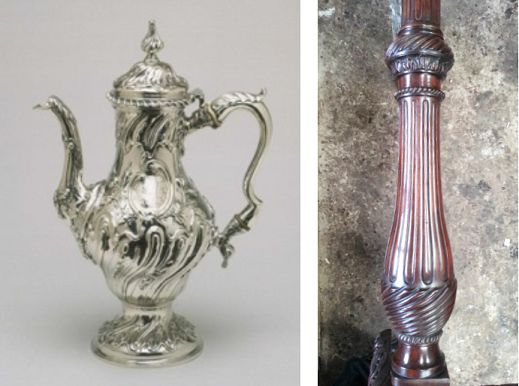 Further comparisons can be made with the decoration on the carved canopy and that on the hot water urn from the same service.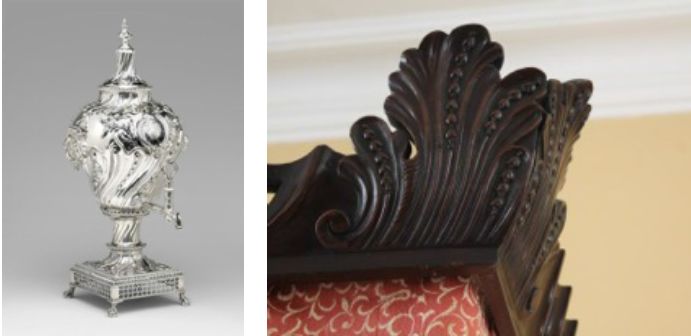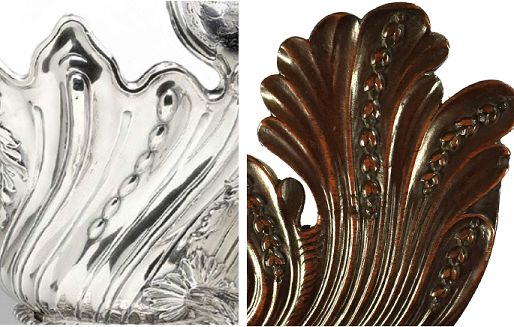 Both have similar asymmetric curves and share the same motif of wheat husk pendants. The claw feet of the urn are similar to those on the bed in terms of their compression.
Only four pieces survive from the Lloyd family silver service. John Cadwalader and Richard Bennett Lloyd are known to have shared a set of four large candelabra, each capable of holding twelve candles and valued at £118 each.24 Had these survived closer parallels with the bed may have been seen.
The punched ground decoration seen on the bed carving may well have been inspired by the Lloyd family silver service. A similar ground can be seen on the Lloyd / Cadwalader coffee pot.